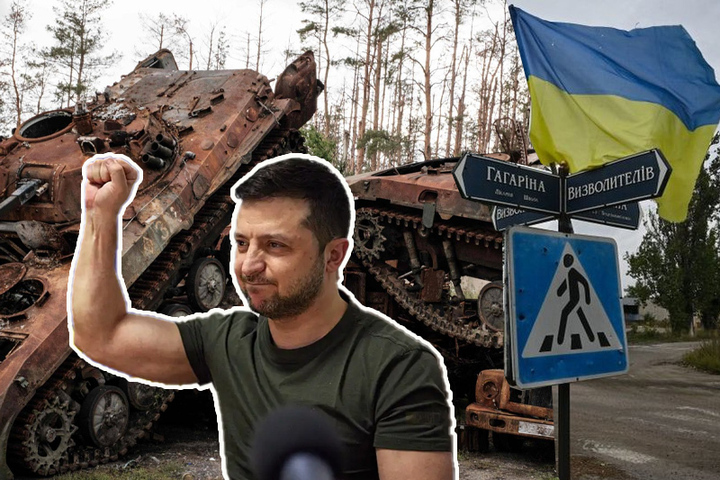 Ukraine reclaims more Russian-annexed territory
Ukraine reclaims more Russian-annexed territory
President Volodymyr Zelenskiy announced that Ukrainian forces have recaptured additional settlements in Kherson, one of the largely Russian-occupied, annexed southern areas.
With Russian forces retiring from the southern and eastern front lines, Zelenskiy said in a late-night video speech on Wednesday, October 5, that Novovoskresenske, Novohryhorivka, and Petropavlivka were "liberated."
Russia is asking for a secret ballot instead of a public vote when the 193-member UN General Assembly decides next week whether to condemn Moscow's annexation of Donetsk and Luhansk in the east, and Kherson and Zaporizhia in the south, following referendums in the provinces.
Wednesday, Russian President Vladimir Putin signed a measure incorporating four regions into Russia. The Ukraine asserts that it will never consent to a forcible annexation of its territory. Kyiv and the West claimed the referendums were coerced, rigged elections.
In Europe's largest annexation since World War II, the new bill would take almost 18% of Ukraine's territory, which is similar to the size of Portugal. Putin claims he wants to safeguard Russian-speakers in Ukraine and ensure Russia's security. Kyiv accuses Moscow of a territorial grab.
In his statement, Zelenskiy stated that he and his top military officers met on Wednesday to discuss reclaiming all Russian-occupied territory.
Zelenskiy addressed pro-Moscow forces in Russian, informing them that they had already lost.
Keep Reading
"Ukrainians understand why they are fighting. And more and more Russian civilians are recognizing that they must die because one man refuses to halt the conflict," he continued, referring to Putin.
Moscow's map of Ukraine appears to depict a reduction in the territory it controls. The whole terrain of the Ukrainian provinces was depicted on a map of "new territories" issued by the state-run news agency RIA, but certain portions were shaded and labeled as being under Ukrainian military control.
"They will always be part of Russia," Kremlin spokesperson Dmitry Peskov said of the new districts, adding that Ukrainian-recaptured settlements "will be repatriated."
Since the beginning of September, Ukrainian forces have reclaimed thousands of square miles of terrain, including dozens of villages in recent days.
After the front line collapsed, thousands of Russian forces retreated, first in the northeast then, at the beginning of this week, also in the south.
Putin celebrated the annexations with a ceremony in the Kremlin and a concert in Red Square last Thursday, mere hours before Ukrainian forces stormed Lyman, Russia's most important holdout in northern Donetsk.
On Wednesday, the bloated bodies of two Russian soldiers were still lying in trees on opposite sides of a road near Lyman, next to the mangled remains of two cars and a van.
Occasional rumbles emanated from distant fighting between fleeing Russians and Ukrainian troops moving toward a north-south highway that serves as one of the final supply routes for Russian forces in the province of Luhansk.
In Lyman, Nina, aged 73, stood alongside vans outside the municipal building in anticipation of receiving humanitarian aid. She stated that fifteen Russian soldiers were dead in her street.