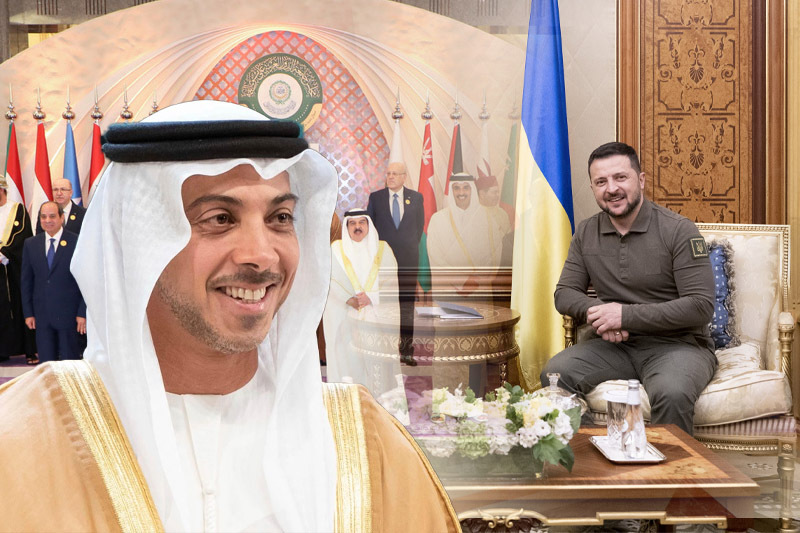 UAE's Mansour bin Zayed meets Zelensky on sidelines of Arab Summit
UAE's Mansour bin Zayed meets Zelensky on sidelines of Arab Summit
HH Sheikh Mansour bin Zayed Al Nahyan, Vice President, Deputy Prime Minister and Minister of the Presidential Court, affirmed his strong support for peace in Ukraine through dialogue during discussions with Volodymyr Zelensky on the sidelines of the 32nd Arab Summit in Saudi Arabia.
During the meeting on Friday, the two sides discussed cooperation relations between the two countries and ways to enhance them in order to better serve their common interests. The Ukrainian president briefed Mansour bin Zayed on developments in his country.
The discussions touched on the agenda of the summit, in addition to topics and issues of common interest.
His Highness conveyed the greetings of UAE President HH Sheikh Mohamed bin Zayed Al Nahyan to Zelensky, who also asked him to convey his greetings to the Emirati leader and his wishes to the people of the UAE for continued progress and prosperity.
Keep Reading
Mansour bin Zayed also affirmed the UAE's support for every step that enhances peace and stability in the region at the summit in Jeddah, a prominent Saudi Arabian port city on the Red Sea.
He thanked the Custodian of the Two Holy Mosques King Salman bin Abdulaziz Al Saud of Saudi Arabia, and Crown Prince and Prime Minister of the Kingdom, His Royal Highness Prince Mohammed bin Salman bin Abdulaziz Al Saud, for the warm reception.
His Highness also thanked the General Secretariat of the League for its preparation of the summit, and Algeria for its efforts during its presidency of the previous session. He also welcomed the return of Syria to the pan-Arab institution after over 11 years.
In relation to the ongoing month-long violence in Sudan, Mansour bin Zayed said the situation requires the Sudanese brothers to uphold the supreme interest of the homeland and return to peaceful negotiations.