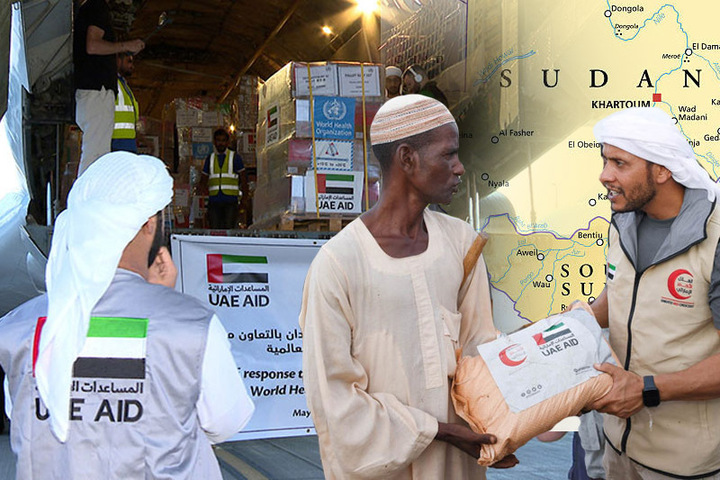 sudan uae 720
UAE's Humanitarian Aid Flies 34 Tonnes of Food Supplies to Sudan, Alleviating Crisis
Last updated on May 22nd, 2023 at 12:00 pm
In a commendable display of solidarity and unwavering support, the United Arab Emirates (UAE) has swiftly responded to the urgent needs of the Sudanese people by dispatching two aircraft laden with 34 tonnes of vital food supplies. This timely aid delivery aims to alleviate the suffering of Sudanese refugees affected by the ongoing crisis in the Republic of Sudan.
The first aircraft touched down at Port Sudan Airport, proudly carrying 18 tonnes of essential food provisions. Simultaneously, the second aircraft arrived in Chad, expertly transporting 16 tonnes of supplies dedicated to assisting Sudanese refugees in their hour of need. This concerted effort by the UAE showcases their commitment to providing immediate assistance to those facing dire circumstances.
This benevolent act is a testament to the UAE's enduring alliance with Sudan, rooted in long-standing relations that foster mutual trust and cooperation. By extending this helping hand, the UAE has once again proven its dedication to supporting nations during times of crises and emergencies, firmly upholding its reputation as a reliable partner in humanitarian efforts.
The UAE's decision to dispatch these aircraft laden with food supplies showcases their unwavering determination to alleviate the suffering of Sudanese refugees and alleviate the burden caused by the prevailing situation in Sudan. With these provisions, the UAE aims to ensure that basic necessities reach those most affected, offering a glimmer of hope during these challenging times.
Keep Reading
The Emirati government's continuous efforts to assist the Sudanese people underscore its commitment to humanitarian causes on a global scale. This act of solidarity not only demonstrates the UAE's generosity but also sets an exemplary standard for other nations to follow.
As the world faces unprecedented challenges, the UAE's swift response in dispatching aid reaffirms their role as a compassionate global leader. Through their unwavering dedication to the Sudanese people, the UAE has once again exemplified the true spirit of humanity, emphasizing the importance of international cooperation and collective responsibility in times of crisis.
By delivering 34 tonnes of food supplies to Sudan, the UAE has demonstrated its remarkable ability to mobilize resources and act decisively when the need arises. The humanitarian aid is set to make a tangible difference in the lives of countless Sudanese individuals and families who have been affected by the ongoing situation.
As the UAE's efforts continue to make a positive impact, it is hoped that their benevolent actions will inspire others to join forces and provide much-needed assistance to vulnerable populations worldwide. The UAE's unwavering commitment to supporting nations in times of crisis serves as a beacon of hope for those in need and a reminder of the power of compassion to overcome adversity.
In summary, the UAE's dispatch of two aircraft carrying 34 tonnes of food supplies to aid the Sudanese people is a remarkable testament to their dedication to humanitarian causes. This act of generosity and support not only reflects the UAE's enduring bond with Sudan but also reinforces its commitment to helping nations navigate through crises and emergencies. The UAE's swift response demonstrates the power of collective action and serves as an inspiration for other nations to step up and provide assistance to those in need.