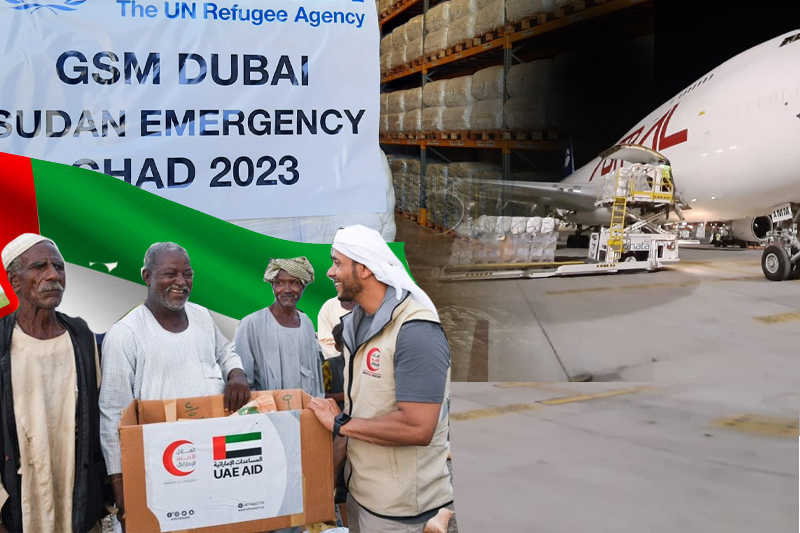 Deepening Crisis: UAE delivers medical and food supplies for relief of the Sudanese
Deepening Crisis: UAE delivers medical and food supplies for relief of the Sudanese
On top of its growing focus on bringing all parties involved in the recent Sudan fighting to the negotiation table, the UAE has also been strengthening its humanitarian support for scores of Sudanese still trapped or trying to flee to neighbouring Chad and South Sudan.
In recent news, the Emirates sent three aid planes to the conflict-stricken country, delivering more than 115 tonnes of medical and food supplies.
Following the directives of @HHShkMohd, @IHC_UAE in Dubai facilitates comprehensive airlift of around 80 metric tons of aid supplies from @Refugees stockpile for those affected by the crisis in Sudan. A second plane, is also scheduled to depart in the coming days. pic.twitter.com/Nlvq6mdhmH

— Dubai Media Office (@DXBMediaOffice) May 8, 2023
Two planes arrived at the Port Sudan Airport carrying 100 tonnes of essential drugs and other urgent medical supplies for emergency surgeries and treating injuries, including surgical tapes, medical wound dressings, and endoscopy kits.
The third plane headed to Chad, carrying 15 tonnes of food supplies for tens of thousands of Sudanese refugees affected by the crisis. The ongoing conflict between two warring generals has also led to massive internal displacement in Sudan.
Keep Reading
Sultan Muhammad Al Shamsi, Assistant Minister of Foreign Affairs and International Cooperation for International Development Affairs, said the shipments come under the directives of the wise leadership of the UAE and its keenness to support Sudan.
The violence has led to a serious shortage of essential supplies, while compelling several hospitals to pause operations. Al Shamsi said the Emirati airbridge of food and medical supplies comes in line with the UAE's vision of helping countries in times of need.
Sending the three planes comes within the framework of the Emirates' continuous efforts to alleviate the severity of the humanitarian repercussions facing the Sudanese. The relief efforts also highlight the depth of its relations with Sudan.
Since April 15 when the deadly clashes erupted in the African country, the UAE has been one of the first nations to send direct aid to Sudan. In addition to the relief supplies, the Emirates has also successfully evacuated its citizens and hundreds of foreigners amid the noise.