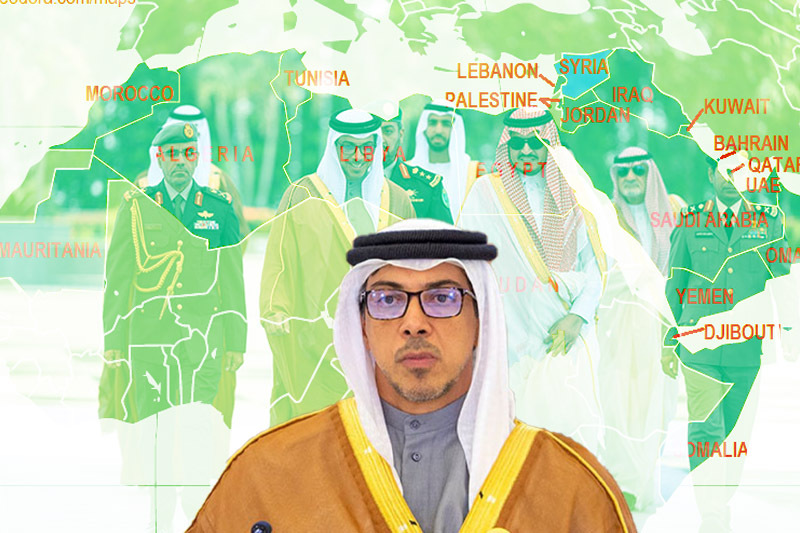 His Highness Sheikh Mansour bin Zayed Al Nahyan affirms UAE's support in promoting peace and stability in the region
His Highness Sheikh Mansour bin Zayed Al Nahyan affirms UAE's support in promoting peace and stability in the region
The Vice President, Deputy Prime Minister, and Minister of the Presidential Court of UAE, His Highness Sheikh Mansour bin Zayed Al Nahyan, while attending the 32nd session of the Arab Summit in Jeddah, remarked that UAE was fully committed to promoting peace, harmony and stability in the region. His Highness also emphasized the importance of Arab cooperation and integration for building, developing, and prosperity in the Arab region.
His Highness also expressed his appreciation and gratitude to King Salman bin Abdulaziz Al Saud, the king of the brotherly state of Saudi Arabia, and Prince Mohammed bin Salman bin Abdulaziz Al Saud, the Crown Prince and Prime Minister of Saudi Arabia, for excellent organization, hosting, and warm reception during the summit.
Keep Reading
His Highness Sheikh Mansour bin Zayed Al Nahyan also expressed his gratitude towards People's Democratic Republic of Algeria for its exemplary performance in hosting the previous session of the summit. The General Secretariat of the League also received special mention for the preparation of the summit. His Highness prayed to God so that the actions taken by the League bring success and produce results that are in the best interests of the people of all the countries in the region.
On a positive note, His Highness, brought the attention of the member nations to the positive indicators of growth in the region despite the region being subjected to multiple challenges over the years. The importance of continuing on the positive path and further pushing it forward was also stressed upon.
His Highness also welcomed the return of Syria among its brother nations and hoped for better stability, prosperity, and accord in Syria. His Highness stressed upon the need for joint Arab action to build sustainable economic partnerships to better the quality of lives of the people.