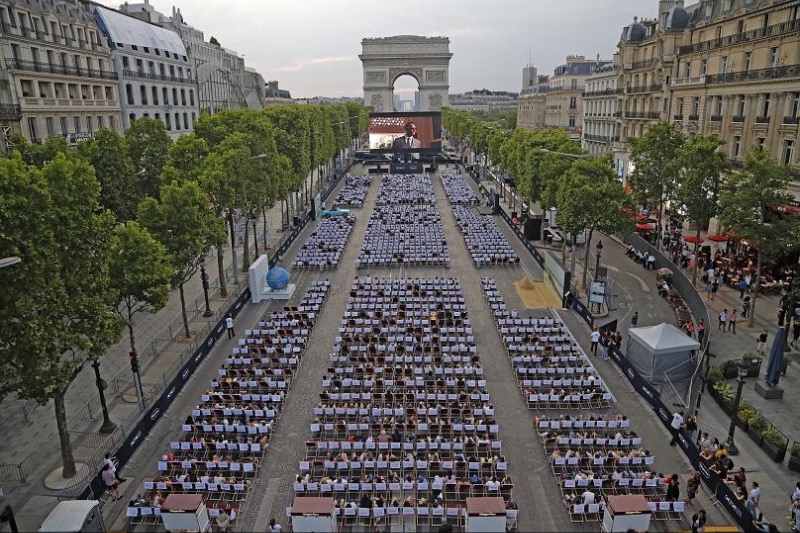 People in France can go to the movies for €4 for a few days
People in France can go to the movies for €4 for a few days
To entice you to visit the movies, a French film festival is offering four-euro countrywide cinema tickets as part of a promotion.
For the 37th time, France's Fête du cinéma, or Cinema, will be held in Paris. Cinemas across the country will be offering cheap tickets for four days, from July 3 to 6.
It's not just theatres with screens set up for the festival; museums, libraries, metros, and airports are all participating.
France's national cinema association (FNCF) hosts the festival in an effort to draw moviegoers back into theaters.
It's no secret that France is home to one of Europe's most vibrant film industries, but the COVID-19 outbreak left the industry reeling.
Even though attendance in 2021 was up 47% from the previous year, it was still down 55% from the pre-pandemic levels of attendance in 2019.
As of now, 2022 appears to be making progress. Sixty-two million tickets have been sold alone in the first five months of the year. The decrease from 2019 is only one-third of the increase from this year.
As the pandemic's influence on daily life diminishes, the FNCF's next concern is the European cost of living problem.
As a result of growing ticket prices, a lack of interest in the films being exhibited, and competition from streaming platforms, the number of people going to the movies has decreased, according to a survey by the National Center for Cinema and Moving Image (CNC).
Aurélie Delage, manager of the Megarama movie chain in the French commune of Garat, states, "We are fighting against only one enemy; the couch, and it's free!"
Related Posts
If you want to see a 3D film in Paris, you'll have to pay at least €15. A single movie outing is often less expensive than a month's worth of Netflix or Disney+ subscriptions, even when you include in the cost of transportation there and back.
It's important to note that the majority of theater operators maintain that the majority of movie tickets in France are sold for less than €7 and that this makes going to the movies the most affordable alternative to other types of entertainment, such as plays or sporting events.
FNCF general delegate Marc-Olivier Sebbag predicts that "This is the film that will make people want to come back to the cinema again."
Despite successfully drawing new audiences to the theaters, Sebbag believes the €4 ticket price is merely a short-term fix.
According to him, they're a "welcome gift and an exceptional price" that can't be sustained.
When it comes to ticket sales at Megarama movies, Delage says she'll only make "a few dozen cents" on each one because of rising electricity and air-conditioning costs.