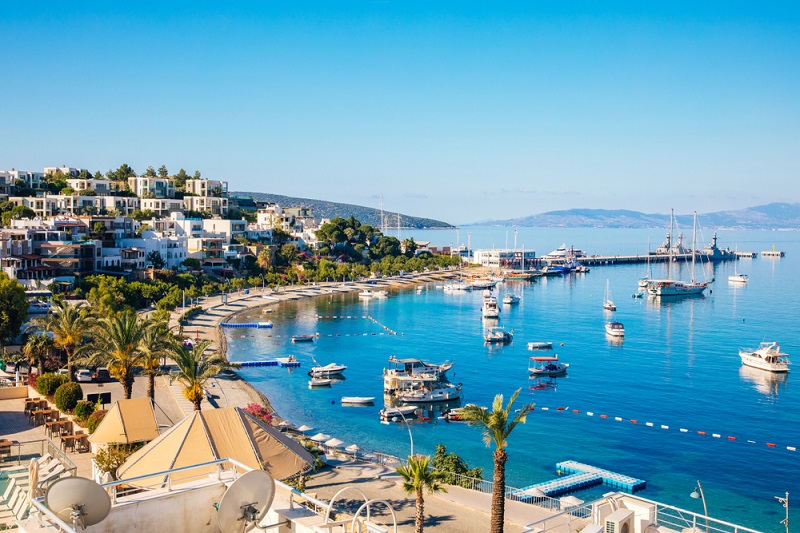 10 best places for summer vacations in turkey
10 Best Places for Summer Vacations in Turkey
Summer holiday plans are already being made now that the weather is improving. Due to the global coronavirus pandemic, many people are planning to spend their vacations in the United States this year.
There are so many gorgeous places to see and see in every area of our lovely country, and there are so many beautiful beaches, all of which are a brilliant blue.
We've put up some tips for folks considering summer vacations in this article. Here are the 10 best places for summer vacations in Turkey.
Also Read: The 10 Safest Countries Where Women Can Travel Alone
1. Assos, Çanakkale
Assos, in the Ayvack district of Çanakkale, is built over the ruins of an ancient city dating back thousands of years. Behramkale is the modern name for this settlement. There is a unique sea and nature in addition to the historical remains. Assos is distinguished by its ice-cold seawater in all seasons, as well as its historical harbour and stone homes.
2. Bodrum
Bodrum, Turkey's most popular summer holiday destination, has maintained its popularity over the previous 30 years without losing any of its lustre. The region, which attracts attention with its clean bays, fine hotels, and vibrant nightlife, can provide a relaxing or entertaining vacation. You can also unwind and enjoy yourself by booking your vacation here.
Also Read: 10 Easy Steps To Live A More Sustainable & Better Life
3. Datça, Muğla
Datça, a peninsula similar to Bodrum but less well-known due to transportation issues, attracts attention with its clean bays and pleasant weather. You may swim in the most gorgeous sea and enjoy the tranquil evenings in this magnificent place that has managed to stay away from Muğla's most unspoilt holiday resorts. You can be filled with nature and art in this place where many famous names from literature and art have retired.
4. Kaş, Antalya
Kaş, located in the west of Antalya, is known for its diving tourism and its beautiful water. With its old cities, historical structures, colourful bazaar, and excellent hotel alternatives, this is a summer vacation hotspot. One of our country's most famous beaches, Kaputaş Beach, is also located here. Kaş is also a good option for a relaxing but colourful vacation.
Also Read: How Much Does It Cost To Visit Turkey?
5. Olympos, Antalya
Olympos, in Kumluca, Antalya, is a first-degree site because it is surrounded by a historic city and a national park. This pristine beauty is one of the few spots where history, nature, and a sea holiday can all be found in one place. You can visit this magnificent spot this summer if you want to meet the calm seas of the Mediterranean in such a historical setting.
6. Çeşme, İzmir
eşme, which has become the most popular summer vacation spot in zmir, also offers some of Turkey's most stunning beaches. This lovely spot is suitable for a fantastic vacation with its exquisite white beach, pleasant water, and thermal springs. This is why it continues to draw attention throughout the season. You can also spend your vacation in this favourite spot.
7. Fethiye, Muğla
Fethiye, one of Turkey's most prominent tourist sites, has welcomed visitors from all over the world for many years. You can stay in a variety of accommodations, swim in the most gorgeous seas, and enjoy nightlife and entertainment in this lovely place.
8. Dalyan, Mugla
Dalyan, in Ortaca, Mula, is one of Turkey's most popular summer holiday locations. The ancient city of Kaunos and rock tombs get a lot of attention in the summer and winter. In addition, Iztuzu, Dalyan's most famous beach, attracts attention as a natural conservation zone due to the presence of Caretta caretta turtles.
Also Read: 7 Best Companies To Work For In Israel In 2022
9. Side, Manavgat
Side, in Manavgat, Antalya, is one of our country's most fascinating locales. Side, with its spectacular gate encircled by walls, ancient harbour, historical remains blended with everyday life, and old residences, is one of the most beautiful destinations you may visit.
10. Marmaris, Mugla
Marmaris, which sits at the confluence of spectacular blue and green, is one of our country's most popular summer vacation destinations. Marmaris is a must-see destination for both domestic and international travellers, thanks to its glistening bays, lush nature, luxurious hotels, and exciting nightlife. This summer, you can also explore the wonders of Marmaris to fill up on blue and green.