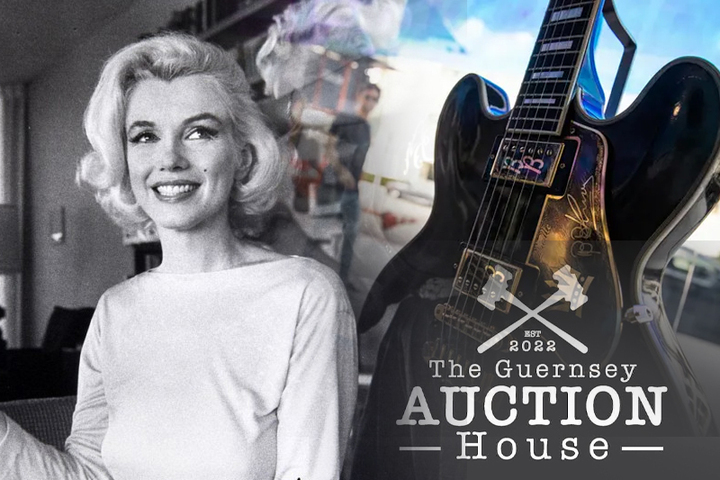 bb king guitar marilyn monroe photos 720
New York auctions B.B. King's guitar, Marilyn photographs
Next month, the auction house Guernsey's in New York City will be selling a variety of artifacts from pop culture and history. One of the items up for auction is a guitar that belonged to the blues artist B.B. King. Other items include early photographs of the film icon Marilyn Monroe.
"This is an auction of famous objects, things that may or may not have any connection to one another… What they do have in common is that they are very extraordinary in one way or another," said Arlan Ettinger, Guernsey's founder and president. "This is true regardless of whether they pertain to a famous incident or a famous person," he added.
One of the lots has the very first guitar ever owned by B.B. King, which has never been displayed publicly before. Other things coming straight from the estate of King, who passed away in 2015, include music that was handwritten, an African tribal drum that was gifted to him by the former leader of South Africa, Nelson Mandela, and a half dozen stage-worn jackets.
Related Posts
The sale also includes photographs that were taken during Marilyn Monroe's very first photo shoot, each of which comes with an interesting background narrative.
"In the year 1945, Captain Ronald Reagan of the United States Army requested a soldier in the Army to go take photographs of attractive young women working at the local war plant in the style of Rosie the Riveter… This is an original photograph from the collection. As Ettinger remarked when he was holding one of the images, That woman… became the renowned and legendary Marilyn Monroe."
In addition, the jazz singer Billie Holiday's passport and a fur cover are going up for auction as part of the 120-lot sale. Other lots in the sale include sports memorabilia belonging to American baseball great Mickey Mantle.
The engine telegraph that was used aboard the USS St. Louis is one of the historic lots that will be auctioned off, along with a sword that was on display at the White House while President John F. Kennedy's body lay in state there.
Proceeds from a sale of tools used at the site of the World Trade Center attacks in New York in September 2001 will go to benefit the online 9/11 Tribute Museum.
On September 21, the auction will take place online at LiveAuctioneers.com and invaluable.com.