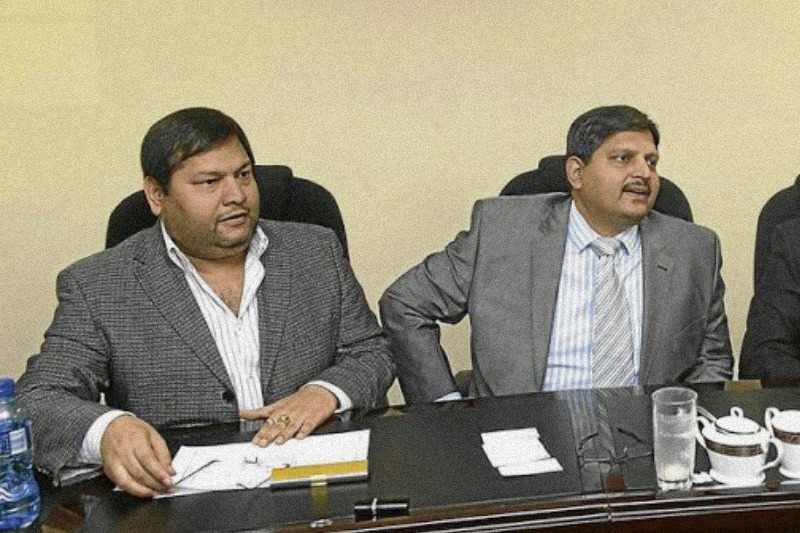 gupta brothers arrested in dubai over corruption allegations in south africa
UAE demonstrates its successful efforts in combating money laundering: Dubai Police arrests Gupta Brothers over corruption charges
Gupta Brothers, the wealthy Indian-born business brothers dup, have been arrested in Dubai. They have been at the centre of massive network of corruption in South Africa. The arrests following investigation into "massive plundering of state institutions during former president Jacob Zuma's era".
South Africa's justice ministry "confirms that it has received information from law enforcement authorities in the United Arab Emirates (UAE) that fugitives of justice, namely, Rajesh and Atul Gupta have been arrested."
The brother duo is allegedly at the centre of a corruption scandal that trailed nine year long administration term of Zuma up until 2018. They were accused of offering hefty bribes in exchange for lucrative contracts by the state. The arrests come a year after red notice was issued against them in July by Interpol. "Discussions between various law enforcement agencies in the UAE and South Africa on the way forward are ongoing," said the ministry.
Arrests by Dubai police
Dubai Police on Tuesday made the arrests. Atul and Rajesh Gupta, the Gupta Brothers, who had lived for years in Dubai were arrested as part of latest major extradition arrest by the United Arab Emirates authorities.
Keep Reading
UAE renews its fight against money laundering
The UAE has made progressive work in its efforts to work towards anti-money laundering (AML), countering the financing of terrorism (CFT), and counter proliferation financing (CPF). This is according to the Financial Action Task Force (FATF), a global anti-money laundering and terrorist financing watchdog.
UAE commits to fight against financial crime
The UAE has "significantly strengthened" its framework related to anti-financial crime. The government of UAE has worked efficiently by setting up courts that are focused on financial crimes, has established an entity that works to ensure better collaboration between central bank and other authorities, and has also announced starting of 9% corporate tax from 2023.
UAE's Executive Office of Anti-Money Laundering and Countering the Financing of Terrorism said, "The UAE takes its role in protecting the integrity of the global financial system extremely seriously and will work closely with the FATF to quickly remedy the areas of improvement identified."
"On this basis, the UAE will continue its ongoing efforts to identify, disrupt and punish criminals and illicit financial networks in line with FATF's findings and the UAE's National Action Plan, as well as through close coordination with our international partners."