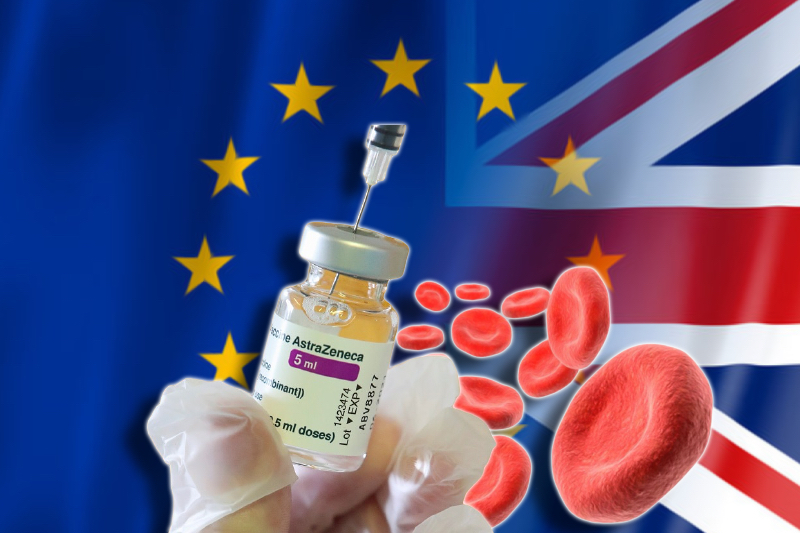 EU and UK regulators establish formal link between AstraZeneca-Oxford vaccine & blood clots, Australia to review the findings
EU and UK regulators establish formal link between AstraZeneca-Oxford vaccine & blood clots, Australia to review the findings
Weeks into findings of blood clots post vaccination with AstraZeneca-Oxford's Covid-19 vaccine, regulators in the European Union and United Kingdom have formally established a "slight link" between the vaccine and blood clot formation. Post the finding UK has decided to offer all healthy individuals under 30 years of age with an alternative vaccine to AstraZeneca. Furthermore, the European Medicine Agency made an announcement on Wednesday that blood clots would now be formally listed as a 'very rare side-effect' of AstraZeneca vaccine. The European regulator has however, not listed any restrictions in use of the vaccine.
Citing the recent development, Australia too has decided to review the findings. Australian Technical Advisory Group on Immunization (Atagi) and Therapeutic Goods Administration (TGA) have been asked by Australian government "to immediately consider and advise on the latest vaccination findings out of Europe and the UK".
Australian vaccination program is heavily reliant on the locally manufactured AstraZeneca vaccine and this is main reason that the government emphasizes that vaccine's benefits outweigh its risks and side effects. Prime Minister Scott Morrison said that reports would be received later on Thursday evening and then decision over UK and EU's finding would be given. Scott said that Australia has Pfizer vaccine as an alternative to AstraZeneca jab that can be given to front line workers and healthcare professionals.
Related Posts
The perspective around vaccination must be maintained. The fact that AstraZeneca vaccination in UK has already saved some 6000 lives, can't be ignored. Also, the clotting incidents are just around five for every million.
UK Prime Minister Boris Johnson said over the recommendation of vaccinating younger people with an alternative vaccine, "We will follow today's updated advice, which should allow people of all ages to continue to have full confidence in vaccines, helping us save lives and cautiously return towards normality." Cases of blood clots have mostly been reported in women in age group of 18-79 years of age (51 cases) and three cases were under 30 years.