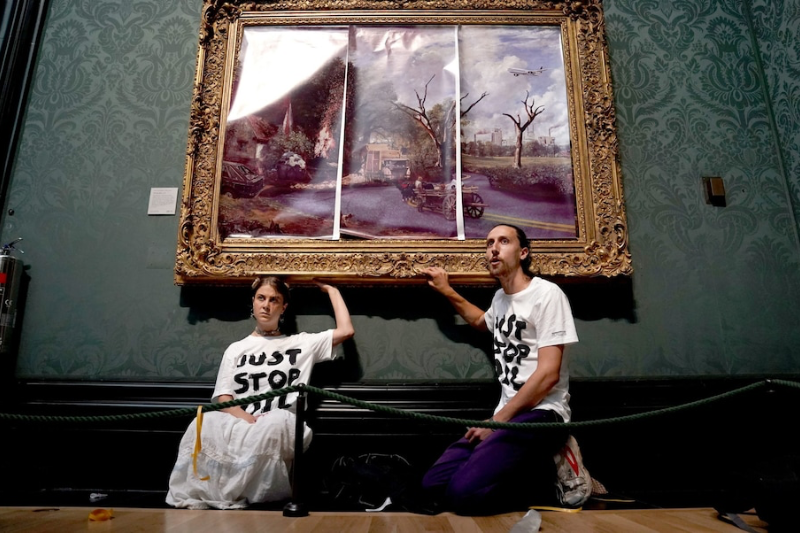 Climate change protesters glue themselves to 200-year-old artwork
Climate change protesters glue themselves to 200-year-old artwork
Protesters from the British environmental organization "Just Stop Oil" attached themselves to a painting at London's National Gallery on Monday, the latest in an escalating trend of incidents.
John Constable's "The Hay Wain" was covered with a modified version of the classic landscape painting before they put their hands on its frame.
Five "Just Stop Oil" protestors disrupted Formula 1's British Grand Prix by sitting on the Silverstone racetrack on Sunday. They also glued themselves to paintings in London, Glasgow, and Manchester, including Vincent van Gogh's iconic "Peach Trees in Blossom," last week.
"The Hay Wain," a painting that was completed in 1821, is one of the most well-known works of art in the United Kingdom. One of Constable's most notable works, depicts the Stour River, which separates Suffolk and Essex in England.
In the protesters' version, the river was replaced by a paved road, with manufacturing smokestacks represented in the background and airplanes flying over.
Related Posts
Students Hannah Hunt and Eben Lazarus have been identified as the demonstrators by the group "Just Stop Oil," which is campaigning on the British government to halt new oil and gas extraction permits. London's Metropolitan Police confirmed to CNN that two people had been arrested on suspicion of criminal damage and released on bail, awaiting further investigation.
The "reimagined" painting "shows the destructive nature of our addiction to oil," says Lazarus, a 22-year-old music student, in a video shared to the Just Stop Oil Twitter account of Monday's incident.
Apparently, he says, "I want to work in the arts, not disrupt them. "But, the situation we're in means we have to do everything non-violently possible to prevent the civilizational collapse that we are hurtling towards."
When the UK government "makes a meaningful statement that it will end new oil and gas licenses," 23-year-old Hunt said in a press release issued by the group on Monday, the protests will end.
The student in psychology is reported as stating, "ultimately, new fossil fuels are a death project by our government, so yes, there is glue on the frame of this painting, but there is blood on the hands of our government."