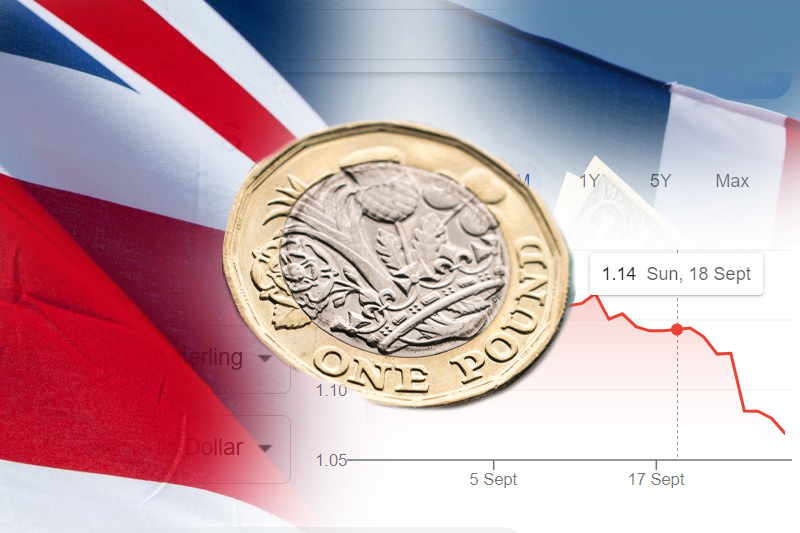 british pound hits a new low against dollar
British Pound hits a new low against Dollar
The British pound has plummeted to a record low against the United States dollar as markets react to the biggest tax cuts in UK in 50 years. In early Asia trade, sterling fell almost $1.03 before it regained some ground to stand at around $1.06 on Monday morning, British time. Chancellor Kwasi Kwarteng has assured of further tax cuts following a £45bn package he had announced on Friday.
The unprecedented slump in pound follows British Chancellor of the Exchequer Kwasi Kwarteng's Friday announcement that the "United Kingdom would impose the biggest tax cuts in 50 years at the same time as boosting spending".
The new "tax-slashing fiscal measures, which include scrapping plans for rising corporation tax and slashing the cap on bankers' bonuses", have been slammed for being "trickle down economics" by the opposition Labour party and also criticized by members of the Chancellor's own Conservative party.
Former Tory chancellor Lord Ken Clarke criticized the tax cuts on Sunday, said, "I'm afraid that's the kind of thing that's usually tried in Latin American countries without success."
Keep Reading
The previous record low for the UK pound against the US dollar was 37 years ago on February 25, 1985 – at that time 1 pound was worth $1.054. "Should there be any escalation to the war in Ukraine…we would see further sharp downside in the Pound as well as the Euro," said Clifford Bennett, chief economist at ACY Securities, an Australian brokerage firm. "One should not underestimate the crisis that is all of Europe at the moment and the Pound is more vulnerable than most," he added.
Peter Escho, co-founder of investment firm Wealthy, said, "All currencies are getting sold off against the US dollar, so there is a large element of US dollar strength." Asia's trading volumes have also been low, making movements in currency trading appear even more pronounced. Mr. Escho said, "But with the pound, it has really been exacerbated by news that the new government will be cutting taxes, which is inflationary. Add to that recent energy subsidies and news that the Bank of England might need to have an emergency rate-hike meeting, this all results in a sense of panic."