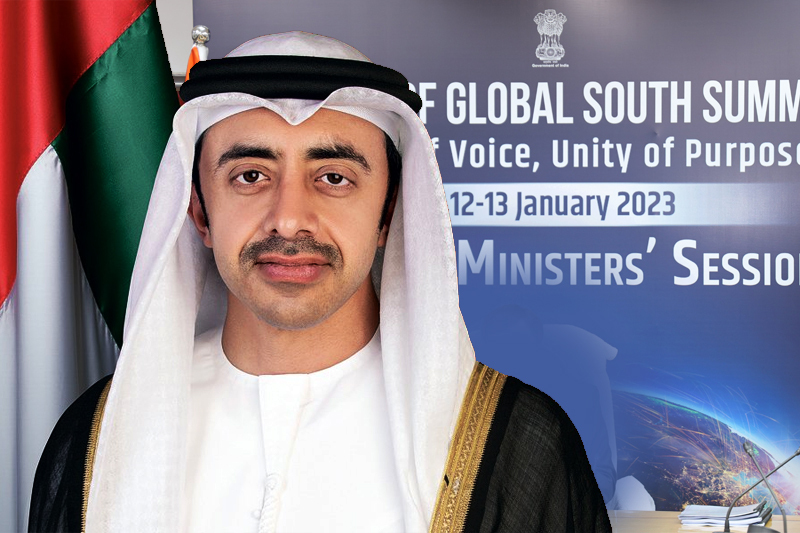 Abdullah bin Zayed participates in India's Voice of Global South Summit
Abdullah bin Zayed participates in India's Voice of Global South Summit
His Highness Sheikh Abdullah bin Zayed Al Nahyan, UAE's Minister of Foreign Affairs and International Cooperation, participated via visual communication technology in the Voice of Global South Summit 2023.
The two-day summit, which kicked off on Thursday, was hosted by India as part of its Presidency of the Group of Twenty (G20). It saw the participation of foreign ministers and senior officials from more than 120 countries and, according to India's Foreign Secretary Vinay Mohan Kwatra, also received a strong and positive response from across the world.
At the beginning of his speech, Sheikh Abdullah praised India "for organising this important summit, which aims at further integrating emerging and developing economies into the G20 process." India has invited the Emirates as a special invitee to the upcoming G20 summit in September.
Through its G20 Presidency, and the recent summit, India aims to offer an ideal platform to countries that are not members of the intergovernmental forum to share relevant ideas and expectations.
Keep Reading
"As a G20 Guest Country for the third time since 2020," the Emirates will continue to pay attention to the views and challenges of developing countries, Sheikh Abdullah mentioned, underscoring the country's growing emphasis on bridging the economic development gap at the regional and global levels.
The UAE has been meticulously preparing for the upcoming COP28 in November since it received the green light to host the climate summit at COP26 in Glasgow in 2021. In conclusion, Sheikh Abdullah reiterated the Mideast nation's commitment to work hand-in-hand with its G20 partners to ensure the alignment between COP and G20 priorities.
In order to further boost bilateral trade and investments, the UAE and India signed the Comprehensive Economic Partnership Agreement (CEPA) last year. The negotiations were concluded in just 88 days, revealing the level of trust and commitment between the two nations. The Emirates is currently India's third largest trading partner, and with the support of CEPA, trade between the two countries is expected to increase from $45 billion to $100 billion within five years.