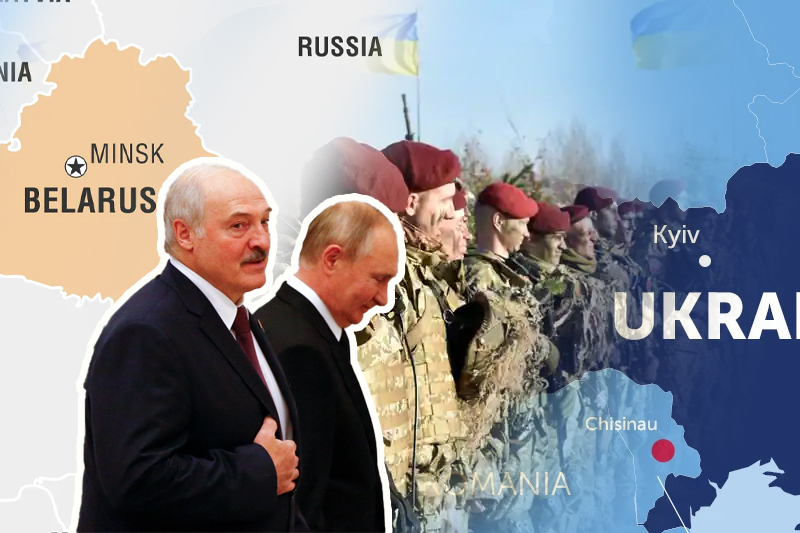 ukraine watchful of borders as vladimir putin heads to belarus
Ukraine watchful of borders as Vladimir Putin heads to Belarus
The President of Ukraine, Volodymyr Zelensky, has said that his country is ready for all possible defence scenarios against Russia and its ally Belarus as well as being watchful of borders.
The Ukrainian president reportedly said, "Our constant priority is protecting our border, both with Russia and Belarus." His comments came against the backdrop of the latest controversy surrounding Russia's President Vladimir Putin.
Also Read – Israel-Lebanon, direct contacts for an agreement on maritime borders
Reportedly, Putin is set to make his first trip to Belarus in more than three years. Reportedly, Russian troops stationed in Belarus are set to conduct exercises. According to some military officials, the Russian president may ask Alyaksandr Lukashenka, the President of Belarus, to deploy Belarusian soldiers alongside Russian forces in his war against Ukraine.
Earlier, Ukrainian officials warned that Belarus could join Russian forces and launch a new attack on Ukraine. The Ukrainian president held a meeting with Ukraine's top military command on Sunday to talk about the recent development.  Zelensky reportedly said, "We are preparing for all possible defence scenarios."
Ukrainian Lieutenant General Serhiy Naiev said that Putin and Lukashenka could discuss involving the Belarusian military in the Russia-Ukraine war.
Recently, Russia transferred around 50 Ural military trucks to Belarus. Reportedly, the Russian troops will conduct battalion tactical exercises in Belarus. According to analysts, Russia is training thousands of its troops in Belarus.
Also Read – Ukraine's President Zelenskiy is emerging strong under Putin's pressure of invasion
Russia used Belarus as a launching pad for its invasion of Ukraine in February 2022. However, Belarusian forces did not directly participate in the attack against Ukraine. The President of Ukraine also denied any intention of sending his country's troops into Ukraine.
On Sunday, the Ukrainian President called for Western countries to beef up Ukraine's air defenses amid the war. Western nations have repeatedly called for the withdrawal of Russian troops from Ukraine. They also urged Russian forces to end the conflict.