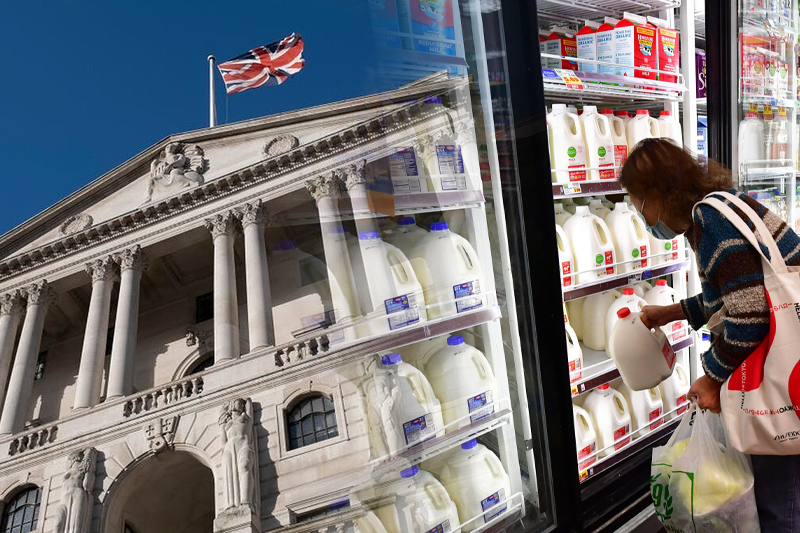 uk inflation exceeds 10% as bread and milk prices soar
UK inflation hits 40 year high, exceeding 10%
UK inflation has exceeded 10 per cent for the first time in 40 years, which is largely driven by surging prices for food and fuel, adding pressure on households experiencing rising cost of living. The Office for National Statistics (ONS) said the consumer prices index rose by 10.1 per cent in July, up from 9.4 per cent recorded in June, entering double figures after February 1982. It is only the fourth time in 70 years that UK's inflation has crossed the threshold of 10 per cent. The other years being 1951-52, 1973-77 and 1979-82.
"All the eleven food and non-alcoholic beverage classes made upward contributions to the change in the annual inflation rate, where prices overall rose this year but fell a year ago," the ONS said.
The maximum contribution to soared inflation is from bread, cereals, milk, cheese and eggs, with specially noted price increases in cheddar cheese and yoghurts. "Higher gasoline and diesel prices, together with rising air fares, were also to blame," the ONS added.
The inflation reading, that is much higher than expected, is going to keep on the pressure on the Bank of England "to follow last month's biggest increase in interest rates in 27 years with further rate hikes despite mounting evidence of the pressure on household budgets and signs that the UK economy may already have entered a recession", experts say.
"The situation is miserable for UK consumers, who are currently being squeezed from all sides," wrote Kallum Pickering, senior economist at Berenberg. "Wages are not rising fast enough to offset surging inflation, but they are rising too fast for the [Bank of England's] liking, as it wants to return inflation to target," he added.
Economists at JP Morgan Chase have indicated signs that the global inflation might be heading towards easing. But they have cautioned that the eased inflation will first set its foot in United States, with European nations following next.