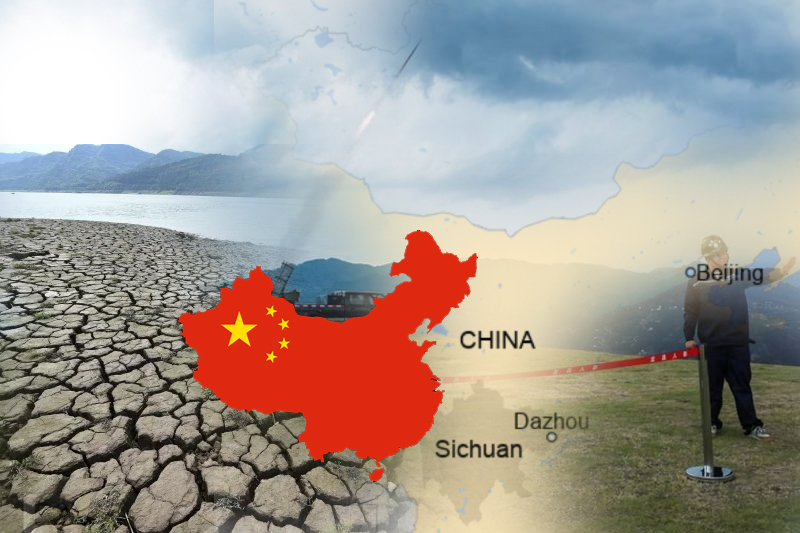 china takes support of cloud seeding planes to fight severe drought
China takes support of cloud seeding planes to fight severe drought
China is struggling the worst ever heatwave experienced on record. The country is now resorting to tackle the crisis with extensive and much-needed measures. Steps are being taken to minimize the power shortages and bring in more water to the severe drought in basin of the Yangtze river by seeding clouds, implementing relief funds and creating new sources of supply.
Continuously rising temperatures in China, for more than two months now, have negatively impacted the agriculture and crop growth, threatening the livestock and forcing energy-intensive industries in the of the south west part of China to shut down, ensuring adequately restored electricity supplies for homes.
"The current extreme heat is likely to stem from a "special case" of high pressure from the western Pacific extending over much of Asia," said Cai Wenju, a researcher with Australia's national scientific research institute, CSIRO.
According to the national climate centre's data, the heatwave in China has been running for 64 days, the longest since the record keeping came in full swing in 1961. The forecasts further indicate that high temperatures in the country are expected to continue through same trend up till August 26, specially in Sichuan basin and most parts of central China.
Sichuan, the south western province of China has started rationing electricity supplies to homes, offices and other facilities along with ordering curbed operations for energy intensive fertilizer and metal industries. "In what appears to be an official call to cut electricity use, government offices were asked to set air conditioners no lower than 26C (79F) and use the stairs instead of lifts," the Sichuan Daily said.
Furthermore, central Hubei province has unveiled efforts to induce rainfall by sending planes to fire chemical silver iodide into clouds. Other regions along the Yangtze river basin have also deployed similar cloud seeding planes, but a thin cloud cover in some areas has stalled the operation. "Drought throughout the Yangtze river basin is also adversely affecting drinking water for rural people and livestock, as well as the growth of crops," the water resources ministry said in a notice.