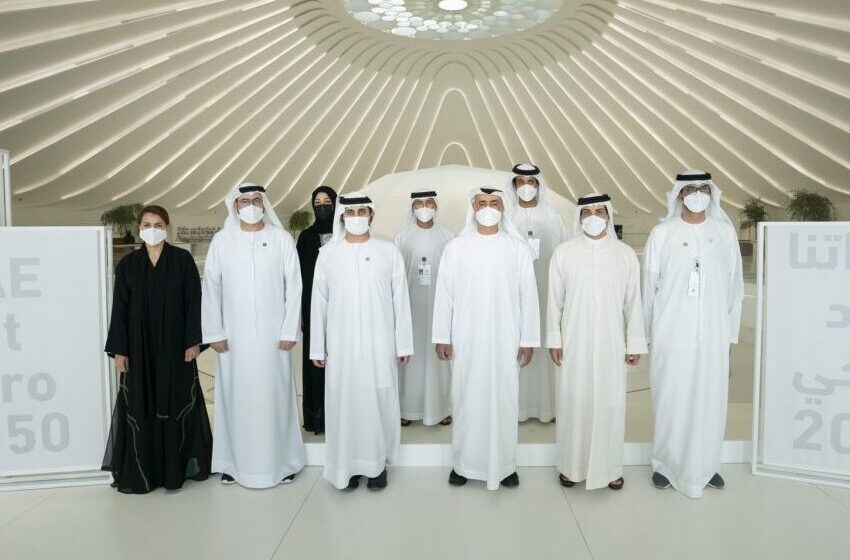 UAE, US form collaboration to spur $100 billion in clean energy investment
UAE, US form collaboration to spur $100 billion in clean energy investment
Tuesday saw the establishment of a strategic agreement between the United States and the United Arab Emirates that would mobilize $100 billion to produce 100 gigawatts of sustainable energy by 2035.
The agreement, which was signed at the Adipec energy conference in Abu Dhabi, is titled "Partnership for Accelerating Clean Energy" (PACE) and consists of four main pillars: the development of clean energy innovation and supply chains, the management of carbon and methane emissions, nuclear energy, and industrial and transport decarbonization.
"The cooperation comes within the context of the close friendship between the United Arab Emirates and the United States of America" and "affirms the commitment of both sides to work to enhance energy security and advance progress in climate action," according to a statement issued by the UAE government and published by the state news agency WAM.
The White House described the new alliance as a significant accomplishment for President Joe Biden's climate initiative.
"Today, President Biden once again demonstrated his deep commitment to ensuring a global clean energy future and long-term energy security," according to a White House statement. "The United States and the United Arab Emirates announced a robust partnership to ensure a swift and smooth transition toward clean energy and away from unrestrained fossil fuels."
The two nations will establish a "expert group" to "identify priority projects, remove potential obstacles, and measure PACE's progress in achieving its goal of catalyzing $100 billion in financing, investment, and other support and deploying 100 gigawatts of clean energy globally," according to the announcement.
The United Arab Emirates is a major oil exporter, but it has made significant investments in the development of non-fossil fuel energy sources, including the construction of the world's largest single-site solar power plant and the first nuclear power station in the Arab world. In 2023, it intends to host the COP 28 climate summit.
As a result of years of underinvestment in fossil fuels and months of Russia's conflict in Europe, the supply of oil has shrunk and consumer prices have risen. The ambitious plan of the two nations comes at a time of rising demand for oil and dwindling global supply.
At the same conference where PACE was ratified, the CEOs of oil and gas companies warned of the perils of limiting fossil fuel production for the purpose of preventing climate change.
In contrast to previous years, when there were robust calls for increased renewable energy investment and accelerating the transition away from hydrocarbons — a pillar of the Biden administration's objectives — more leaders are now emphasizing the need for revived oil and gas production ahead of what could be a very difficult winter for Europe and other regions of the world facing shortages of these commodities. In the past year, oil and gas prices have reached multi-year and in some cases record highs due to supply difficulties and geopolitical instability.
Keep Reading
Prosperous Emirati Partnerships
Monday at the Adipec conference, the CEO of Abu Dhabi National Oil Company (ADNOC), Sultan Al Jaber, stated that "energy is everyone's top priority" as "a perfect storm" hits the global energy scene. Years of underinvestment in oil and gas production, according to him, have exacerbated the situation.
"Due to natural depletion, we would lose 5 million barrels per day of oil per year if we stopped investing in hydrocarbons. This would make the jolts we've felt this year seem like a little tremor," Al Jaber emphasized the significance of energy security.
He underlined the importance of both traditional energy investment and carbon emissions reduction, noting that they are not mutually exclusive, and stating, "The world needs maximum energy and lowest emissions."
"It is not petroleum, natural gas, solar, wind, nuclear, or hydrogen. It is petroleum, natural gas, solar, wind, nuclear, and hydrogen," Al Jaber remarked. It includes the renewable energies that have yet to be found, developed, and deployed.
Still, many policymakers and institutions vehemently condemn the use of fossil fuels, arguing that climate change is a far greater threat. In June, Antonio Guterres, the Secretary-General of the United Nations, called for an end to fossil fuel financing and described any additional funding for exploration as "delusional."
However, global economic forces do not appear to support this objective. In accordance with a recent analysis from UNCTAD, the United Nations Conference on Trade and Development, cross-border investment in climate change mitigation and adaptation is likely to diminish this year in tandem with a general decline in investment projects.
Moreover, the Organization of Petroleum Exporting Countries, or OPEC, boosted its medium- and long-term petroleum demand predictions on Monday, estimating that $12,100,000,000,000,000 will be necessary to achieve it.
As nations continue to move away from fossil fuels, OPEC's prognosis contrasts from that of certain other groups, such as the International Energy Agency, which sees oil demand peaking in the middle of the next decade.
What the UAE and US will do
Both nations plan to develop, fund, and establish clean energy projects in the United States of America, the United Arab Emirates, and other nations. In addition, invest in supply chains that are responsible and resilient, and encourage investment in environmentally responsible mining.
They also aim to invest more quickly in the reduction of emissions from fossil fuels, and make further progress in the detection and management of methane. Moreover, they plan to engage in the areas of advanced reactors, including small modular reactors, and to promote nuclear power as a clean energy alternative, pushing decarbonization in the power sector and hard-to-abate sectors beyond electricity.
Lastly, both countries plan to encourage concrete investment and collaboration in the direction of decarbonization across all industrial sectors by the year 2030, scale up the use of clean fuels in long-distance transportation sectors such as aviation and shipping, and promote electrification and energy efficiency as a key pathway to reducing emissions.