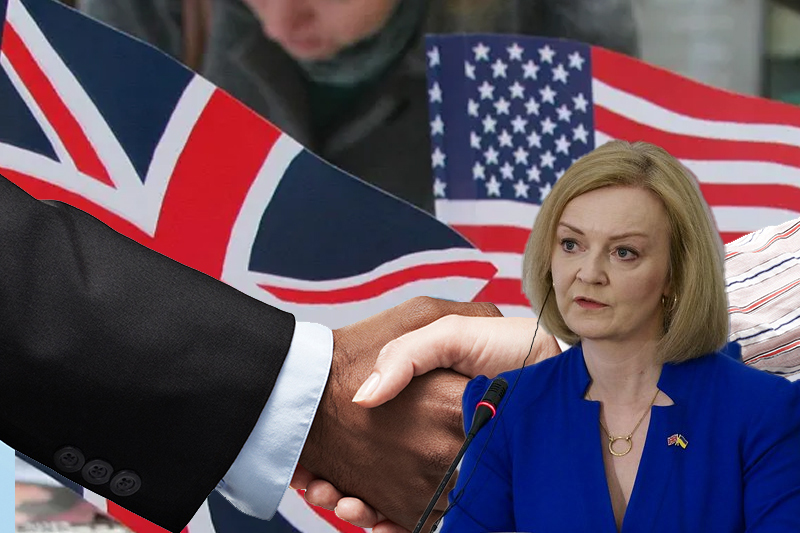 truss admits to no us uk trade deal soon as she makes first trip to us as pm
Truss admits to no US-UK trade deal soon as she makes first trip to US as PM
Liz Truss, the newly elected Prime Minister of United Kingdom has admitted that Britain might not enter any free trade deal with the United States anytime soon. The clarification by PM Truss came as she embarks on her trip to US for first bilateral meeting with US President Joe Biden. The new prime minister also said that talks in this direction were unlikely to start in any near future.
On the plane to her first foreign trip to US since she entered Downing Street, Truss admitted to reporters, "There aren't currently any negotiations taking place with the US and I don't have any expectation that those are going to start in the short to medium term." Truss landed in New York on Tuesday to attend the United Nations General Assembly after the funeral of Queen Elizabeth II. Truss added that the prime focus of her office right now was to obtain consent for the Trans-Pacific trade partnership and entering trade deals with India and the Gulf Cooperation Council (GCC) of states including Saudi Arabia and Qatar.
Keep Reading
Truss has stressed that a trans-Atlantic deal is not on her priority list, highlighting a sharp contrast from the policies of her predecessors Prime Ministers Boris Johnson and Theresa May. Both the former British PMs stressed on promises of trade deal with the world's biggest economy, showcasing the deal as one of the main prizes gained by UK from exiting the European Union.
Truss said that her current priorities for the bilateral meeting with US President Biden were "making sure that we are able to collectively deal (with) Russian aggression and ensuring we are not strategically dependent on authoritarian regimes." She said, "I want to work with our allies like the United States, like France, the EU, the Baltic States, Poland to take on the challenge we face from Russian aggression. That should be our priority."
During her two days trip to New York, Truss will be holding series of bilateral talks with other key leaders as well, including the European Commission president, Ursula von der Leyen, and the French president, Emmanuel Macron.