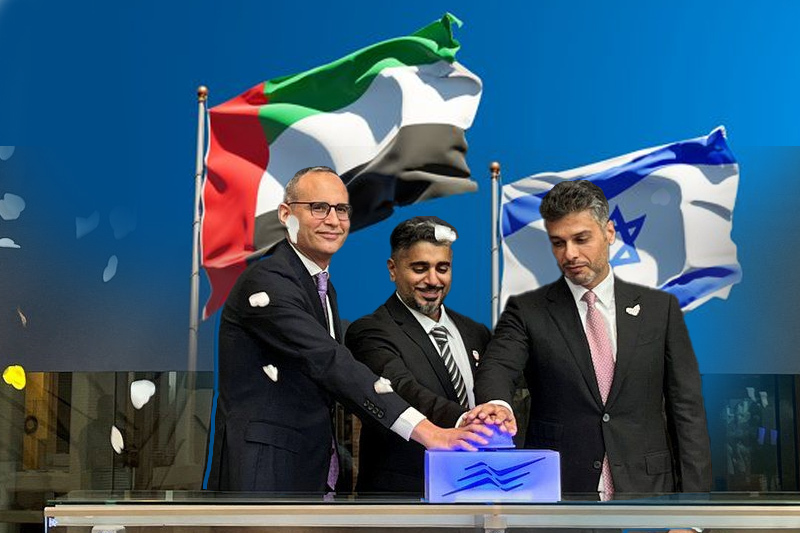 trade ties between uae and israel fast growing stronger than ever
Trade ties between UAE and Israel fast growing, stronger than ever
Two years to signing of historic Abraham Accords, brokered by United States, the United Arab Emirates and Israel are establishing fast growing trade ties between them, that are stronger than ever. Mohamed Al Khaja, the UAE Ambassador to Israel, helped to ring the Tel Aviv Stock Exchange opening bell. The moment met with loud applause and cheers as the Ambassador shook hands with Ittai Ben-Zeev, the boss of the exchange, and Ahmed Al Zaabi., chairman of UAE financial centre Abu Dhabi Global Market. This is a big milestone that highlights strengthening bonds and trade ties between UAE and Israel.
Emirati investor Sabah Al-Binali, part of the visiting UAE delegation, was cheering the event in Tel Aviv earlier this month. "We are witnessing history in the making, seeing the steady development of a long, deep and fruitful relationship between natural Middle East neighbours," said the executive chairman of investment fund OurCrowd Arabia. Mr Al-Binali who views the fast growing trade ties between Israel and the UAE as a win for everyone, says, "There is so much natural synergy between Israeli and Emirati business and technology skills and experience, that I expect the results of our cooperation to be even greater than the sum of the already impressive parts." He adds, "We are currently looking at joint projects in logistics, med-tech, ag-tech and cybersecurity, to name just a few sectors where work is already advanced."
Economists and analysts have stressed on the belief that Abraham Accords have set the dice rolling for expanding and further strengthening trade ties between UAE and Israel.
Keep Reading
Ketaki Sharma, the founder and chief executive of Algorithm Research, a data and economics research firm based in Dubai, says, "The accord was signed in 2020 and has already given a massive trade boost to both Israel and the UAE." She adds on her belief that the trade ties between both nations will expand in next five years to $10 billion.
Ms. Sharma also highlighted the UN data that shows from 2020 to 2021 Israel's annual exports to the UAE increased from $74 million to $384 million. At the same time, trade from UAE to Israel rose from $115 million to $632 million. "Some of the MOUs [memorandum of understanding, or outline agreements] signed [between the two countries] include those in agriculture, clean energy, cybersecurity and smart cities," says Ms. Sharma. "A free trade agreement was also signed between the two countries in early 2022 that has led to the removal of tariffs on 96% of goods traded between the nations."
Abraham Accords have already brought in huge and significant arms sales for Israel. According to the Israeli Ministry of Defence, arms sales in 2021 reached $11.3 billion, with 7 per cent of slaes going to the UAE and Bahrain. Israel's former defence minister Moshe Ya'alon points to the main reason for the surge in arms deal – common security threat in the region, Iran. "In the last decade Israel and the Gulf states have been facing common enemies, namely Iran and her proxies, and although the Palestinian issue still remains there is no longer the Arab-Israeli conflict."
Deals between Israeli and UAE companies in the energy sector are also being finalized. In last year September, Israeli company NewMed Energy (then called Delek Drilling) announced sale of its 22 per cent stake in Israeli offshore gas field Tamar to UAE firm Mubadala Energy for $1 billion. "The deal we signed with Mubadala was a significant step in deepening our regional activity and is part of our goal to strengthen our relations with the countries of the region," says NewMed chief executive Yossi Abu.
These fast growing trade deals between UAE and Israel are a good sign for a bright future. "This is just beginning," as aptly said by Ms. Sharma, "We are all optimistic about the future."