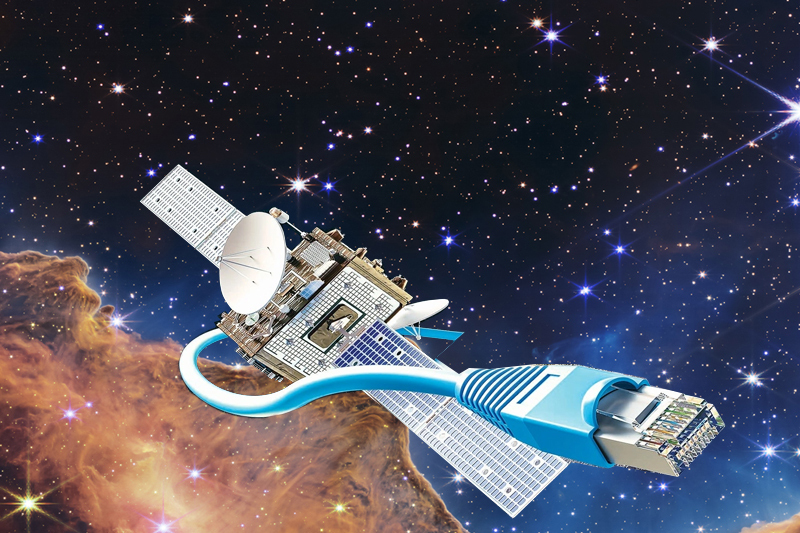 Satellite Constellations Multiply On Profit Hopes, Geopolitics
Satellite Constellations Multiply On Profit Hopes, Geopolitics
There will soon be many more commercial competitors, as well as government-sponsored programs, joining SpaceX's massive constellation of satellites.
Analysts predicted that only two or three companies would succeed in expanding access to high-speed internet through satellite constellations in low Earth orbit (LEO).
At the annual SATELLITE conference in Washington, Caleb Henry, research director at Quilty Analytics, told AFP that the number of players keeps increasing.
At least eight companies are vying to launch or complete their LEO constellations, including SpaceX and OneWeb, which could result in an increasing number of objects in orbit.
In its stealthy "Kuiper" project, Amazon alone hopes to launch over 3,200 satellites.
Governments are also eager to join the rush.
China plans to launch 13,000 satellites as part of its GuoWang constellation, while Telesat will launch 300 and Rivada will launch 600.
As well as the European Union's IRIS project—170 satellites—and the 300-500 satellites the US military's Space Development Agency plans to launch.
Henry noted that people needed to pay more attention to the role sovereign interests would play in the satellite constellation game.
Keep Reading
Space sustainability
There were about 120 satellites launched in all of 2012, but almost 380 have been launched in just the first two months of this year.
Approximately 24,500 LEO satellites are expected to be launched over the next decade, more than half of them for the three most prominent constellations.
There is an open question over how this added capacity will be digested by the market.
The president of Viasat, which operates in geostationary orbit, said he'd be interested in entering LEO, but he doesn't want big players in the space industry to crowd out smaller companies.
Despite being interested in LEO, Dankberg is concerned about leaving enough competition on the market.
Having so many objects in orbit increases the risk of collisions, debris spreading, and overloaded frequencies.
SpaceX is by far the largest player in LEO, having already launched nearly 3,600 satellites and having been authorized to deploy 7,500 of its planned 30,000 satellite constellations.
The gas pedal in Ukraine
Despite Starlink's one million customers, Hughes, another US-based operator, is bigger and has geostationary satellites, like Viasat.
By the end of March, OneWeb, a British operator in the process of being acquired by Eutelsat, will have completed its 650-satellite constellation.
Amazon's Kuiper project's head, Dave Limp, said they would launch their first two prototypes in May and are "on schedule" to have over half of their constellation up by the middle of 2026.
When it comes to government-sponsored projects, such as the EU's Iris, "commercial utility comes second."
Iris and Henry are working together on defense, Henry said.
Despite strikes to the country's telecom infrastructure, Kyiv's forces and civilians have been able to stay connected thanks to Starlink during the war in Ukraine.