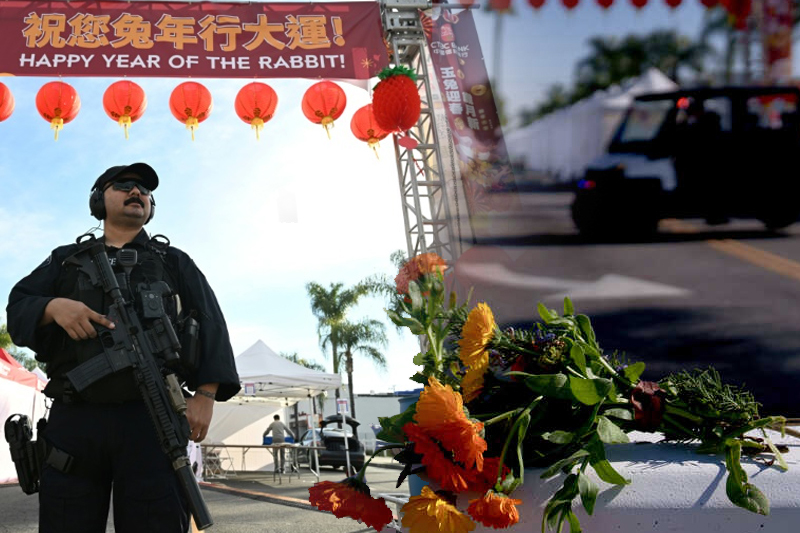 Motive remains mystery after suspected gunman in LA mass shooting found dead
Motive remains mystery after suspected gunman in LA mass shooting found dead
Saturday night's mass shooting inside a Monterey Park dance studio in California led authorities to Torrance on Sunday, where the suspected gunman died of a self-inflicted gunshot wound, Los Angeles Sheriff Robert Luna said. The manhunt began after the shooter – identified as 72-year-old Huu Can Tran – opened fire inside Star Dance Studio around 10:20 pm, killing five men and five women and injuring 10 others.
It was Lunar New Year's Eve.
Then, 20 to 30 minutes later, a man with a gun walked into Lai Lai Ballroom & Studio in nearby Alhambra, but "some individuals wrestled the firearm from him, and that individual took off," said Luna, adding officials were also investigating the incident to uncover any possible relation to the massacre.
A magazine-fed semi-automatic assault pistol with extended large capacity magazine was recovered from the second location. Although more "research" was needed, that type of weapon is not legal in California, Luna said.
Keep Reading
Police have yet to reveal a possible motive behind the mass shooting, including whether it was a domestic violence incident or a possible hate crime. The incident, one of California's worst in recent memory, has left the nation struggling to make sense of the violence.
Earlier Sunday, police in tactical gear and armour surrounded a white van that the gunman was in. Officers said they heard a single gunshot from inside the vehicle, and a handgun was recovered.
The majority of residents of Monterey Park – a city of about 60,000 people – are Asian immigrants or their descendants, most of them Chinese. The shooting occurred near where tens of thousands had gathered Saturday for the start of a two-day Lunar New Year festival. Saturday's New Year festival hours were scheduled from 10 am to 9 pm. Sunday's events were cancelled.