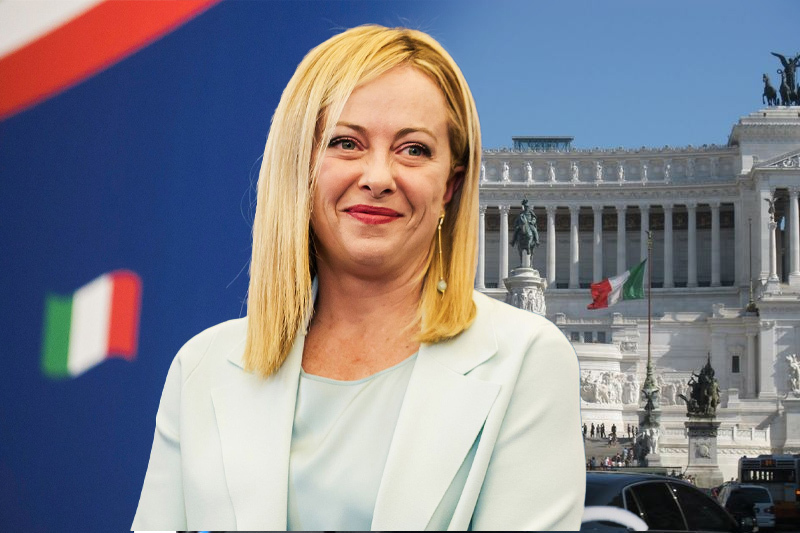 giorgia meloni appointed as first female pm of italy
Giorgia Meloni appointed as first female PM of Italy
Giorgia Meloni has been appointed as Italy's first ever female prime minister. It was after a meeting with the Italian President Sergio Mattarella, that Meloni announced the members in her cabinet. Meloni's Brothers of Italy party, which is a national conservative movement with neo-fascist roots, emerged as country's biggest party in general election held on 25 September.
Brothers of Italy is the main force in a right-wing coalition that also includes Matteo Salvini's Northern League movement and Silvio Berlusconi's Forza Italia. Salvini himself has been appointed deputy Prime Minister. Among other prominent names in the cabinet announced by Meloni are former European Parliament President Antonio Tajani, who will be the new foreign secretary.
Quickly giving the country a new government "was possible due to the clarity of the vote outcome and to the need to proceed swiftly also because of the domestic and international conditions that require a government in its fullness to carry out its tasks", Mattarella said.
Keep Reading
Italy, just like the rest of Europe, is struggling to cope up with the soaring prices of energy and impact of Russia's war in Ukraine, which could further create shortage of gas supplies this winter, thereby increasing the household and business power bills.
Meloni, who will be officially sworn in at 10 am on Saturday, has expressed her commitment to leading a unified new government in Italy. "We are ready to provide Italy with a government that can competently and consciously tackle our present-day challenges and emergencies," she tweeted.
But all is not gold in the coalition as tensions between Meloni and Berlusconi have come to forefront. Berlusconi has described Meloni as "patronising, overbearing, arrogant [and] offensive" in his notes. Meloni's response was also loud and clear: "I won't be blackmailed." The situation has gotten worse after Berlusconi bragged Putin to having sent him bottles of vodka for his 86th birthday last month and that the two exchanges "sweetly worded notes".