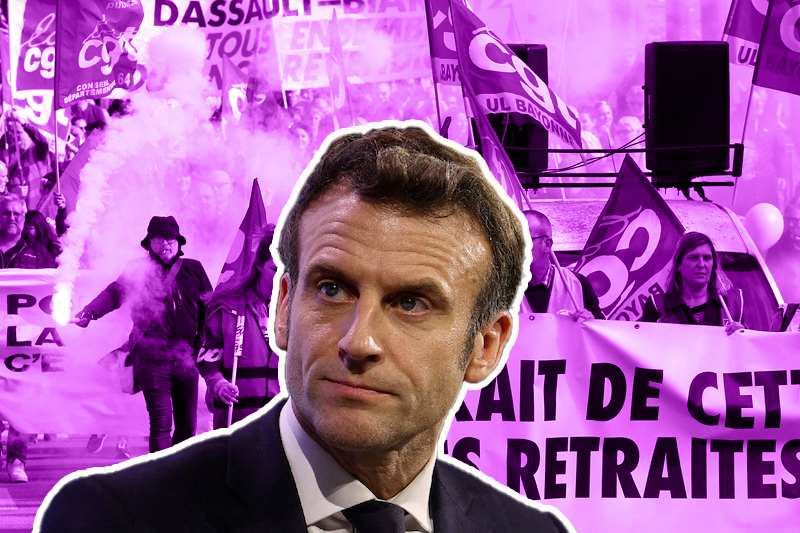 France sees violent protests as Macron orders rise in pension age without vote
France sees violent protests as Macron orders rise in pension age without vote
A number of angry protesters took to the streets in Paris and other French cities on Thursday after the government decided to force through pension reforms and raise the retirement age from 62 to 64 without a vote in parliament. The decision was taken minutes before MPs were scheduled to vote on the controversial bill.
The plans had triggered months of strikes and heated political debate. Finally, Prime Minister Elisabeth Borne invoked article 49:3 of the constitution, which allows the government to avoid a vote in the Assembly. While the constitutional procedure may sound obscure, it has been used precisely 100 times in the over 60 years of the Fifth Republic.
In fact, Borne has already used it a number of times, but those cases were associated with public finance bills which were relatively less controversial.
Keep Reading
While the procedure helps governments that do not have an in-built majority in parliament bypass a vote likely to be lost, the downside is that the opposition parties can immediately table a vote of no-confidence – which Emmanuel Macron's government might encounter this time.
While the decision to invoke the 49:3 caused fury among opposition politicians, it also prompted thousands of people to come out on the streets to reject the pension reforms. Scores of protesters sang the national anthem and waved trade union flags, while some even clashed with police as evening fell.
Police with shields and batons fired tear gas at the angry demonstrators. By nightfall, at least 120 people had been arrested, AFP news agency quoted Paris police.
But unions have promised to maintain their opposition to the reforms, with another day of strikes and demonstrations possibly being planned for March 23.
Nevertheless, the recent tensions once again make France look unreformable. Compared with other European countries, the change to the pension age here is far more dramatic. Morale in France is getting lower with time, and people see retirement as a bright spot in the future.