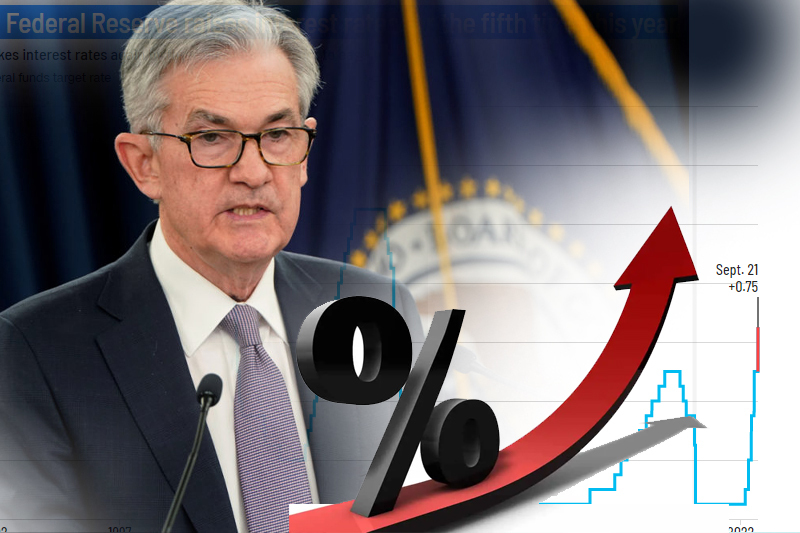 federal reserve approves third consecutive 75 bp hike in response to us inflation
Federal Reserve approves third consecutive 75 bp hike in response to US inflation
The Federal Reserve has delivered its bluntest reckoning yet, on Wednesday – a decision of what it has called a necessary step to tame the painfully aggressive inflation in the US. Fed has gone big with its third consecutive 75 base points hike. Fed has called the painful inflation to be identified with "slower growth, higher unemployment and potentially a recession".
Federal Reserve Chairperson Jerome Powell acknowledged at a news conference what has been already accepted by many economists – "That the Fed's goal of engineering a "soft landing" — in which it would manage to slow growth enough to curb inflation but not so much as to cause a recession — looks increasingly unlikely".
Keep Reading
"No one knows whether this process will lead to a recession or, if so, how significant that recession would be," Powell said. The huge third consecutive hike by Fed takes the central bank's lending rate to a new target range of 3 per cent – 3.25 per cent. This is the highest funds rate of Fed has been since the 2008 global financial crisis. "We have got to get inflation behind us," Powell said. "I wish there were a painless way to do that. There isn't."
The Fed's updated Summary of Economic Projections that was released on Wednesday underlines: "The quarterly report showed a less optimistic outlook for economic growth and the labor market, with the median unemployment rate inching up to 4.4 per cent in 2023, higher than the 3.9 per cent Fed officials projected in June and substantially higher than the current rate of 3.7 per cent."
By increasing the borrowing rate, Federal Reserve has made taking out mortgage or business or auto loan even costlier. This will mean that businesses and consumers are going to spend and borrow less as compared to the usual trend, thereby cooling down the economy and slowing the inflation.