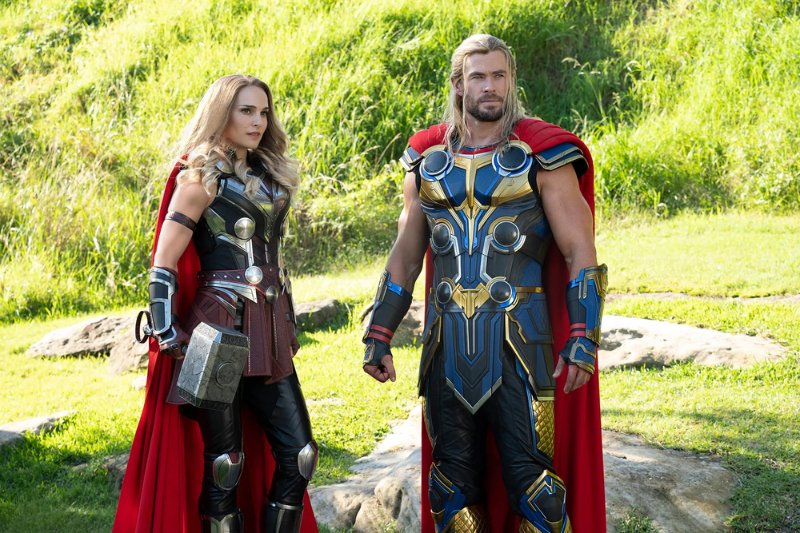 Chris Hemsworth quit meat before filming kiss with co-star Natalie Portman
Chris Hemsworth quit meat before filming kiss with co-star Natalie Portman
It has been said that Chris Hemsworth, who plays Marvel superhero Thor, is just as super off-screen as he is on. In fact, before filming a kiss scene with his vegan co-star Natalie Portman in "Thor: Love and Thunder," he even stopped eating meat.
Hemsworth's kindness was recently mentioned by the actress, who reprised her role as Jane Foster in the latest "Thor" film, and co-star Tessa Thompson on the UK radio series "Capital Breakfast with Roman Kemp." The hosts quizzed the two guests about whether Hemsworth had any hidden problems behind the muscle and charm, but Portman and Thompson had nothing but kind things to say about the Marvel staple.
"The day we had a kiss scene, he didn't eat meat that morning because I'm vegan. He eats meat like every half hour … he was just being thoughtful," says Portman about Hemsworth.
Hemsworth may not indeed have a whole plate of meat every half hour. Still, his trainer Luke Zocchi revealed in a video of Hemsworth's strict training regimen that the actor eats ten meals a day, with roughly 4,500 calories, in order to keep the bulking physique of the God of Thunder.
Related Posts
"I didn't even know he could go without eating meat. He's just like eating bison in the morning. That's so sweet." Tessa Thompson, who plays King Valkyrie, added her thoughts to the conversation.
According to several magazines that have interviewed her over the years, Natalie Portman has stated that she has followed a vegan or vegetarian diet for the majority of her life. She did not insist that Hemsworth quit eating meat before their onscreen kiss, but she claimed that it was a thoughtful gesture on his part to offer to do so.
About 450 calories were consumed per meal, with protein accounting for 30-40% of total calories, carbohydrates for 30%, and fat for 30%. During his preparation for Thor: Love and Thunder, Chris consumed between 4,000 and 4,500 calories per day.
Even when he's in the midst of a spell of irritability brought on by hunger, Thompson agrees with Portman that Hemsworth is, in general, a delightful co-worker.
"He does get grumpy, and he does get 'hangry,' but he's still sweet," Thompson shared her thoughts with the hosts of "Capital Breakfast."