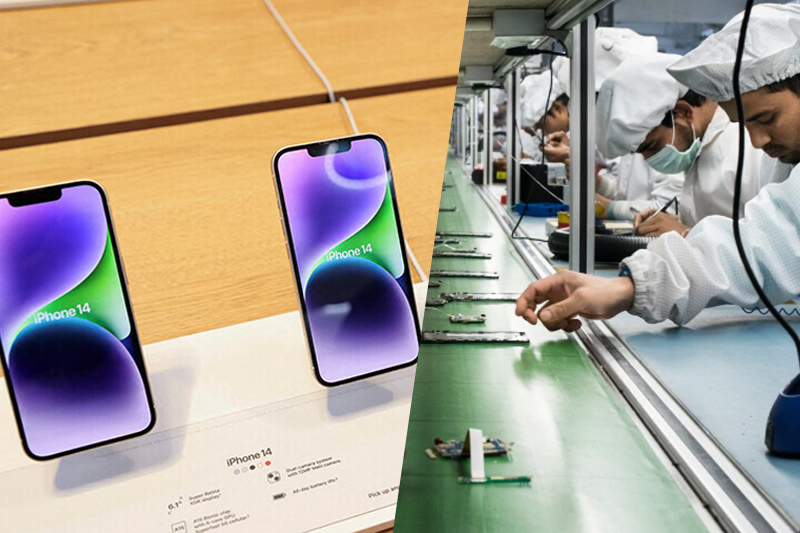 apple inc to manufacture iphone 14 in india
Apple Inc to manufacture iPhone 14 in India
Apple Inc. has announced on Monday that it will now make its iPhone 14 in India, as manufacturers shift production base from China amid rising geopolitical tensions between Washington and Beijing and continuing pandemic restrictions in China that have disrupted supply chains. "The new iPhone 14 lineup introduces groundbreaking new technologies and important safety capabilities. We're excited to be manufacturing iPhone 14 in India," Apple said in a statement.
Foxconn, the Taiwan based company which manufactures the majority of Apple's iPhones, has been conducting operations in the southern Indian state of Tamil Nadu since 2017. By shifting the production base from China to India, Apple is also looking to further increase its footprint in India. As of last year, Apple's market share in India was about 4 per cent. After China, India is the world's second largest market for smartphones but sales of Apple iPhones have been a tricky business due to competition from cheaper smartphones.
Keep Reading
Apple is planning to shift about 5 per cent of its iPhone 14 production to India starting later part of this year, and further raising it to 25 per cent by 2025, as per a report by JP Morgan and quoted by the Press Trust of India news agency. "Apple has been trying to diversify its supply chain for a while, but these efforts have grown in the last two years over trade sanctions between the U.S. and China," said Sanyam Chaurasia, an analyst at Canalys. "Last year, the tech giant manufactured around 7 million iPhones in India. This news is likely to significantly increase India-made Apple smartphones," he added.
The announcement by Apple Inc is in line with "Make in India" vision of Indian Prime Minister Narendra Modi, a flagship campaign that was launched by his government eight years ago to boost India's manufacturing and exports and also bring in more jobs.