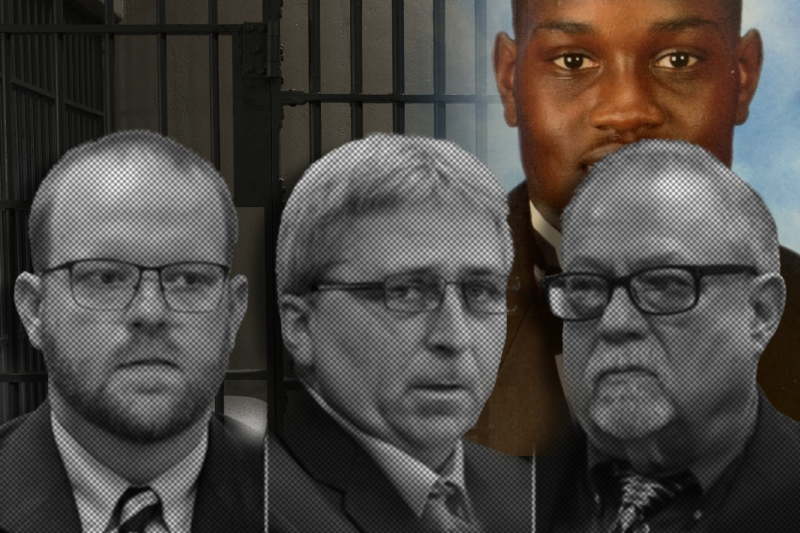 ahmaud arbery murder trial 3 white men sentenced for life no parole for father son duo who initiated pursuit
Ahmaud Arbery murder trial: 3 white men sentenced for life, no parole for father-son duo who initiated pursuit
Last updated on January 21st, 2022 at 06:09 am
Georgia -Travis McMichael (35), Gregory McMichael (66) and William "Roddie" Bryan (52) has been sentenced to life in prison for the murder of Ahmad Arbery. The three white men have been sentenced on Friday by a judge in Georgia for killing Arbery, a Black man who was running through the 'mostly white' neighborhood when they chased him down and killed him in cold blood in February 2020. The judge also denied father and son, who were armed and started the deadly pursuit of 25-year-old Arbery, from any chance of parole.
In the courtroom of Georgia's court, the Superior Court Judge Timothy Walmsley underlined the turn of events for Arbery as he had left his home for a jog and ended up running for his life for five minutes until the men cornered and killed him. "When I thought about this, I thought from a lot of different angles. I kept coming back to the terror that must have been in the mind of the young man running through Satilla Shores," he said while pausing for a minute in silence to settle down what Arbery must have gone through as he ran for his life.
Two of the sentenced white men, Greg and Travis McMichael grabbed their guns and chased Arbery in a pickup truck after spotting him running in their mostly white neighborhood outside the port city of Brunswick on February 23, 2020. Their neighbor, William "Roddie" Bryan too joined the pursuit in his truck and recorded the event on his cellphone as Travis McMichael fired a close-range shotgun into Arbery. "Ahmad Arbery was then hunted down and shot, and he was killed because individuals here in this courtroom took the law into their own hands," the judge said.
Related Posts
According to Georgia law, murder carries a mandatory life sentence unless prosecutors pursue the death penalty. Judge Walmsley's main decision was whether to give father and son Greg McMichael and Travis McMichael, and their neighbor Bryan a chance to earn parole. Arbery's family had urged judge Walmsley in their powerful statements not to show any leniency to the offenders. Walmsley said before sentencing, "Ahmaud Arbery was hunted down and shot, and he was killed because individuals here in the courtroom took the law into their own hands."
The father and son duo will be spending the rest of their lives in prison. Bryan can seek parole after 30 years.
"This wasn't a case of mistaken identity or mistaken fact," Wanda Cooper-Jones, mother of Ahmad Arbey said. "They chose to target my son because they didn't want him in their community. They chose to treat him differently than other people who frequently visited their community. And when they couldn't sufficiently scare or intimidate him, they killed him."
Killing of Ahmaud Arbery became a big driving force across the United States calling against the age old racial injustice and demanding reforms for equality and rights for all.