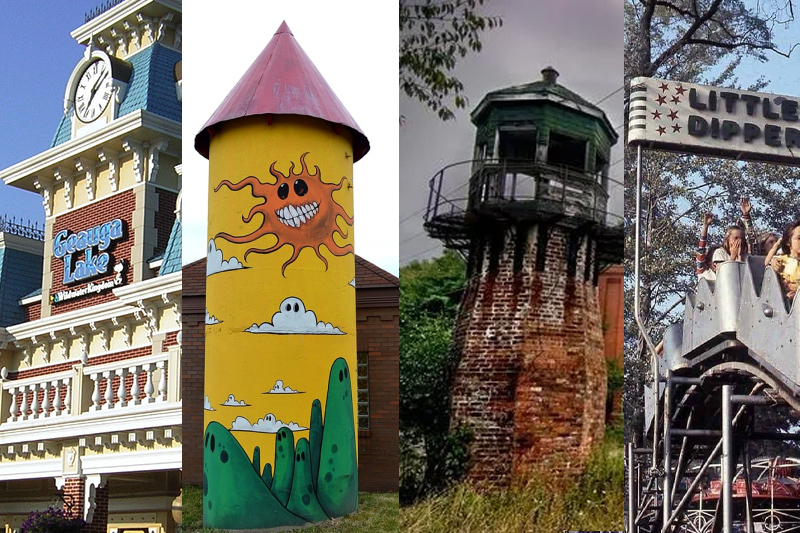 abandoned places in ohio
9 Abandoned Places in Ohio 2022
In the state of Ohio, there are a few derelict locations that are now nothing more than the moss-covered ruins of the once magnificent man-made structures they used to be. Ivy has taken over many of the locations across the state that were once flourishing tourist destinations and bustling production hubs, and these locations are now deteriorating.
You have to search the abandoned places in Ohio in close quarters in order to find them, and once you do, you typically can't go too near them. It's hard to believe, but the nine locations listed below are all tucked away in different parts of the state:
1) Geauga Lake Amusement Park
The roller coasters and water slides that used to be at this historic amusement park in Aurora have long since disappeared. The park's surviving rides and attractions were removed from the property and sold around the year 2008, but it wasn't until 2020 that it was announced that the land will eventually be turned into housing. Can you even fathom the possibility of creating memories at a place where so many other families have created memories throughout the years? Geauga Lake and this formerly used location can both be found in the city of Aurora, Ohio, which has the zip code 44202.
Also Read: Top 9 Abandoned Places In Indiana
2) SeaWorld
This park in Aurora, which was located close to Geauga Lake, has likewise been removed. Just after the turn of the century, Six Flags bought this attraction from SeaWorld, which had been a hallmark since the 1970s. However, the Cedar Fair corporation has been operating it as Wildwater Kingdom in recent years. This location was left to be reclaimed by nature for many years; however, in the year 2020, it was purchased for the purpose of being developed.
3) Helltown
The settlement of Boston Township in Summit County is known as "Helltown" due to a number of unexplained events that have occurred there. It is reported that this neighborhood is distinguished by a number of strange phenomena, including chemical spills, mutant animals, and even ghosts and abandoned buildings. The government took local land and turned it into a national park, thus the houses were abandoned. As you travel through the uninhabited areas of the woods in Boston Township, Ohio 44141, keep an eye out for abandoned sites
ALso Read: 10 Best Places for Summer Vacations in Turkey
4) Chippewa Lake Park
This defunct amusement park in Medina County is a relic from the good old days of summer vacations past. The remains of roller coasters and other attractions were left to crumble for years as the many memories that were made at this location were permitted to deteriorate. It was declared that in the year 2020, this piece of land that has been cherished for a very long time will be revived as a community park. It won't be open to the general public for at least a few more years, but in the not-too-distant future, you'll be able to check it out close to Chippewa Lake, Ohio 44215.
5) Moonville
Moonville, which is located in Vinton County, has been uninhabited since the 1940s and is now considered a ghost town. Even in modern times, there are portions of it that are still standing, such as the supposedly eerie Moonville Tunnel. You may locate it by going to 45651 Hope-Moonville Road in McArthur, Ohio.
Also Read: Top 7 Most Dangerous Cities in Florida 2022
6) Roseville Prison
What could be more eerie than a prison that has been abandoned? Trick question. Nothing. After it was shut down in 1966, this creepy abandoned building in Ohio was left in a state of near-total stranding, and it is now considered to be private property.
7) Champion Electric
At the top of Brandywine Falls in Cuyahoga Valley National Park is where you'll find the remnants of an old gristmill, not far from where you'll find this defunct business. You may locate it close to 8176 Brandywine Rd, Sagamore Hills Township, Ohio 44067.
Also Read: Top 10 Most Dangerous Cities in California in 2022
8) Mother Goose Land
Canton's City Field Park is located on what had been an abandoned field for a very long time. There are still some remnants of this location's previous life as a children's park, notably Willy the Whale from the Mother Goose Land section of the park. Find City Field Park in the 44702 zip code in Canton, Ohio.
9) Canal Locks
Locks from the abandoned Ohio Canal can be seen dispersed around the state of Ohio. Despite the fact that the canal is no longer in use, the historic Towpath Trail has been repurposed as a lengthy hiking trail that traverses a considerable portion of the state. At the Ohio & Erie Canal Reservation, which is located at 4524 East 49th Street, Cleveland, Ohio 44125, you will have a simple time learning about this history.
Also Read: Top 10 most dangerous cities in Texas