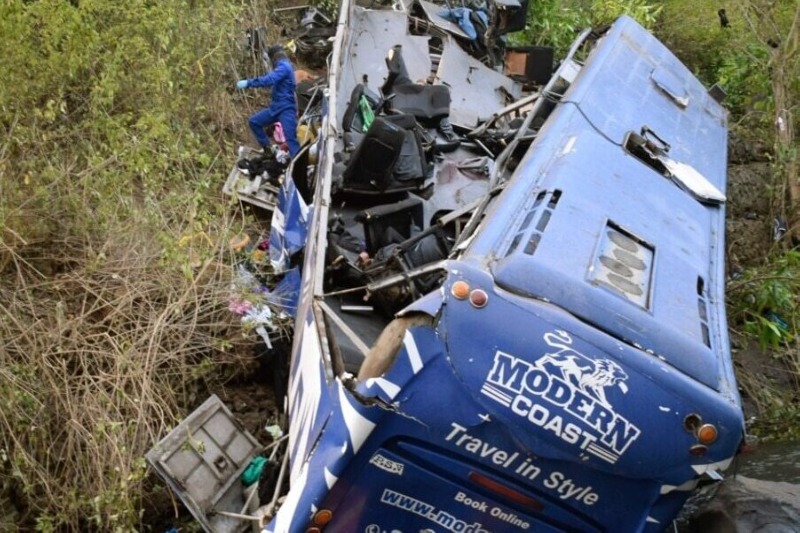 a bus falls into a river valley in kenya killing 34 people
A bus falls into a river valley in Kenya, killing 34 people
According to reports from local media on Monday, a bus carrying thirty-four people lost control in the middle of Kenya, drove off of a bridge, and then crashed into a river valley below.
The newspapers Daily Nation and Standard reported that the incident took place on Sunday evening in Tharaka Nithi County. According to their accounts, it occurred when a bus owned by the Modern Coast company and traveling from Meru to the city of Mombasa in the port of Mombasa veered off the Nithi Bridge and fell into the valley forty meters below.
Related Posts
"We have suffered the loss of 14 ladies, 18 males, and two young women, bringing the total number of fatalities to 34. We were able to save 11, and they are currently receiving medical care at the hospital," In close proximity to the crash site, Tharaka Nithi County Commissioner Nobert Komora gave an interview to NTV Kenya television.
The early investigations, according to what Komora was quoted as saying by Nation, suggested that the bus's brakes may have failed, which prevented the driver from properly turning on a sharp bend on the bridge.
The National Transport and Safety Authority, which is Kenya's regulatory body for the transportation industry, had issued a directive to all buses owned by Modern Coast to cease operations awaiting the outcome of an investigation into the accident.
According to the data provided by the National Bureau of Statistics, there were 4,579 individuals killed in road accidents in Kenya in 2021, representing a 15 percent rise from the previous year.