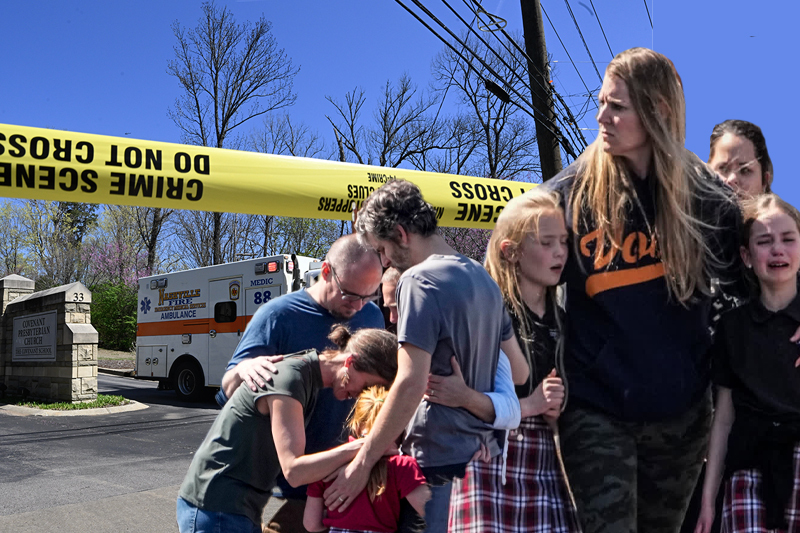 US School Shooting: Trans attacker drew maps to plan massacre, kills 6
US School Shooting: Trans attacker drew maps to plan massacre, kills 6
A heavily armed former student killed three children aged nine or under and three staff aged 60 or above in a shocking, carefully planned attack at a private elementary school in the US state of Nashville, Tennessee, on Monday.
The suspect, identified as Audrey Hale, 28 – a transgender, was shot dead by police at the scene. The shooter had maps of The Covenant School, a Christian Academy, detailing entry-exit points and surveillance, Chief of Police John Drake told reporters.
Hale was potentially planning a wider attack, as the manifesto "indicates that there was going to be shootings at multiple locations," he said in an interview with NBC News. The suspect, armed with a handgun and multiple assault rifles, entered the school from a side entrance.
One of the victims, 60-year-old Katherine Koonce has been listed on the academy's website as Head of the school. Television images were nothing less than shocking, with one showing a child sobbing through the window of her school bus as it pulled away from the scene.
Keep Reading
The private Christian school teaches pupils from three years old up to around 12. When asked if the suspect's gender identity may have played a certain role, the police chief said, "There is some theory to that, we are investigating all the leads."
In the interview with NBC, he even mentioned that investigators had learned the shooter might have had "some resentment" to having to go the Nashville school. But he didn't have all the details of the potential connection at the time.
The updated data from the Gun Violence Archive shows there have been 129 mass shootings in the US so far this year. Describing the latest incident as "sick", President Joe Biden urged Congress to pass a ban on assault weapons, which are often used in the shootings.