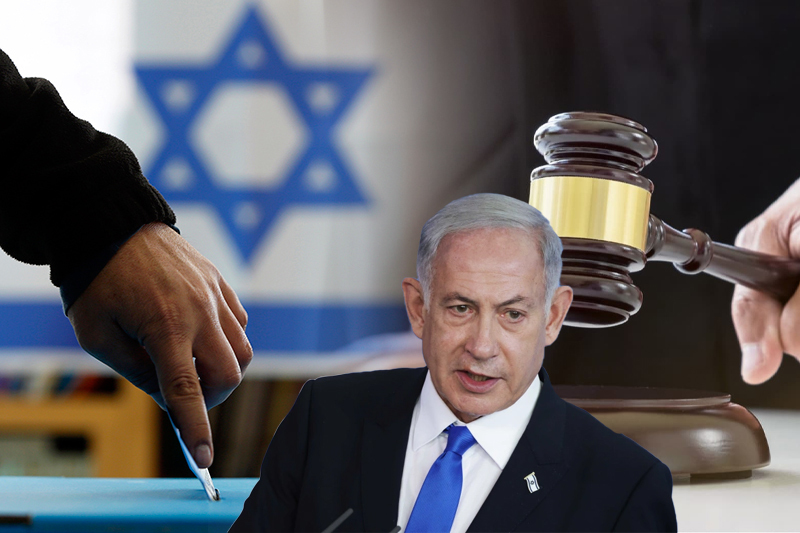 Netanyahu 'pauses' controversial judicial reforms after mass demonstrations
Netanyahu 'pauses' controversial judicial reforms after mass demonstrations
Following international condemnation and mass protests across the country, Israeli Prime Minister Benjamin Netanyahu on Monday 'paused' his controversial plans to reform the judiciary, saying he is "taking time for further dialogue."
The leader blamed an "extremist minority" for the widespread demonstrations. On Monday, Netanyahu's national security minister, Itamar Ben-Gvir, said the government's plan was put on hold until the parliament's summer session, which starts in late April.
In opposition to the plan, scores of people have repeatedly taken to the streets, including spontaneous mass protests that erupted across Israel on Sunday after Netanyahu dismissed Defence Minister Yoav Gallant for questioning the overhaul.
Keep Reading
In a brief statement, Netanyahu's office announced the dismissal, with the prime minister later tweeting "We must all stand strong against refusal." Gallant had been the first senior member of the ruling Likud party to speak out against the plan.
Thousands of people have expressed concerns over the controversial changes giving the governing coalition control over judicial appointments as well as weakening Israel's Supreme Court by allowing parliament to overturn its decisions and limiting judicial review of laws.
While the government says the changes will help streamline governance in the face of an interventionist judiciary, opponents have warned against the overhaul offering Netanyahu's ruling coalition control over what is now an independent judiciary.
Aimed at halting the overhaul, a number of protesters demonstrated outside the parliament earlier on Monday and scores of workers also launched a nationwide strike. The chaos brought much of the country to a standstill and threatened to paralyse the economy.