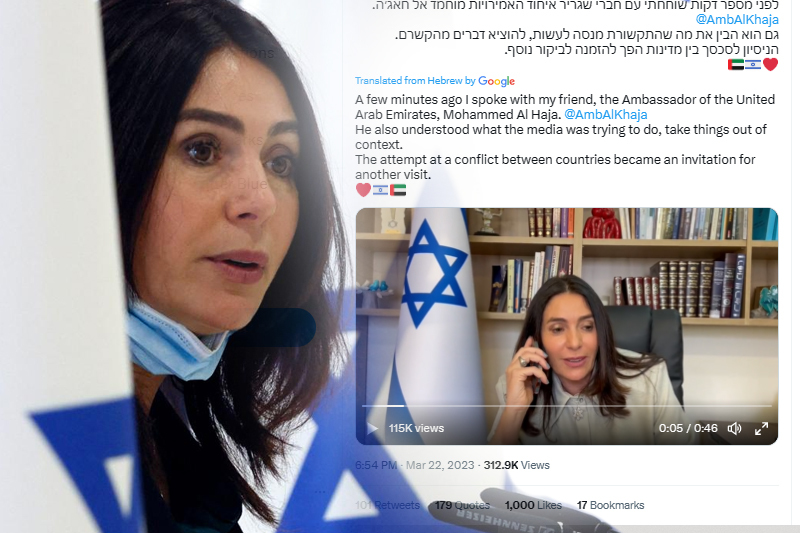 Israeli minister calls her "I don't like" Dubai comment a joke
Israeli minister calls her "I don't like" Dubai comment a joke
Israeli Transport Minister Miri Regev's controversial comment on Dubai comes amid a backdrop of tension between the United Arab Emirates and Israel's far-right government.
In the first-ever state visit by an Israeli minister, Regev from the governing Likud Party visited the emirate back in 2018 at the time of a judoka tournament in the capital city of Abu Dhabi. Speaking about her experiences in the country, she highlighted her admiration for Dubai's roads but said she won't be returning for a visit to the tourist hub.
"I've been to Dubai. I won't be going back. I don't like the place," the minister said, shocking delegates at the Israel Lands Authority Conference in Tel Aviv.
Keep Reading
Regev, however, later insisted that her comment on Dubai was just a joke and even made a call to the UAE Ambassador to Israel Mohammed Al-Khaja. "Mohammed … thank you for the invitation … and … I am waiting for you, in Jerusalem, in my office," she was heard saying in a video posted on Twitter.
Even Israeli Foreign Minister Eli Cohen, from the same political party as Regev, uploaded a picture of himself shaking hands with the UAE President Sheikh Mohamed bin Zayed Al Nahyan, with the comment "I [heart] Dubai."
Israel and the Emirates normalised relations in 2020, and later signed a dizzying array of military, cultural, and economic agreements. Despite sharing common concerns about Iran, tensions between both started increasing following Prime Minister Benjamin Netanyahu coming to power in November last year.
In recent news, Abu Dhabi expressed its opposition against certain comments made by Israeli Finance Minister Bezalel Smotrich, including a denial that Palestinians exist and a call to "wipe out" Hawara.