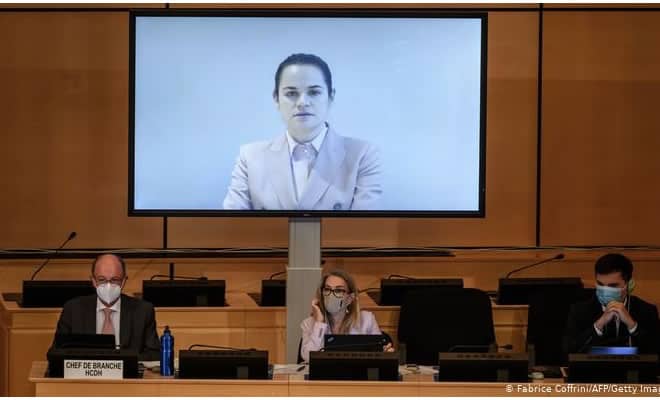 UN Meeting Interrupted Over Emotional Outburst By Belarusian Representative
The recent United Nation's meeting saw some unpleasant exchange of words via video conferencing when the future of Belarus was on the table of discussions. Belarus and its allies were seen repeatedly trying to muzzle speakers amid warnings of a new iron curtain falling across Europe.
The sense of decorum was put to test. But then also, the Human Rights Council comprising of 47 members voted for a resolution of which 23 voted in favour, with 22 abstentions. A resolution is finally being adopted on the deteriorating human rights situation in Belarus. There is now clear guideline to the Belarusian authorities to enter into a dialogue with political opposition.
Those interrupting included the Belarus representative himself, backed by delegates from Russia, China and Venezuela, who tried to limit presentations – including from Alexander Lukashenko's main challenger, Svetlana Tikhanovskaya, on procedural grounds.
There was animosity against Tikhanovskaya and this was evident as her small video message was repeatedly interrupted. The Belarusian representative, Yuri Ambrazevich said it had no relevance to the day's proceedings and he raised procedural objections against its telecast.
Germany on its part, has called for urgent all-day talks on behalf of the EU. The talks has tabled a draft resolution to demand the high commissioner for human rights, Michelle Bachelet, monitor the crisis at hand and report back by the end of 2020, post which the bloc has called "fraudulent elections" officially won by Lukashenko. Most human rights activists and international fraternity are calling the dictatorial re-election of Lukashenko as dubious and rigged.  A month long protest continues to rock Belarus which has been badly handled by authorities and led to severe ill intentioned violent actions against peaceful protestors. Tikhanovskaya was standing up against Lukashenko's candidacy after her husband was jailed. She had to flee for her safety after she was dubiously declared second and was demanding recounting of votes.
Also Read:- FBI warns against Russian interference in US elections