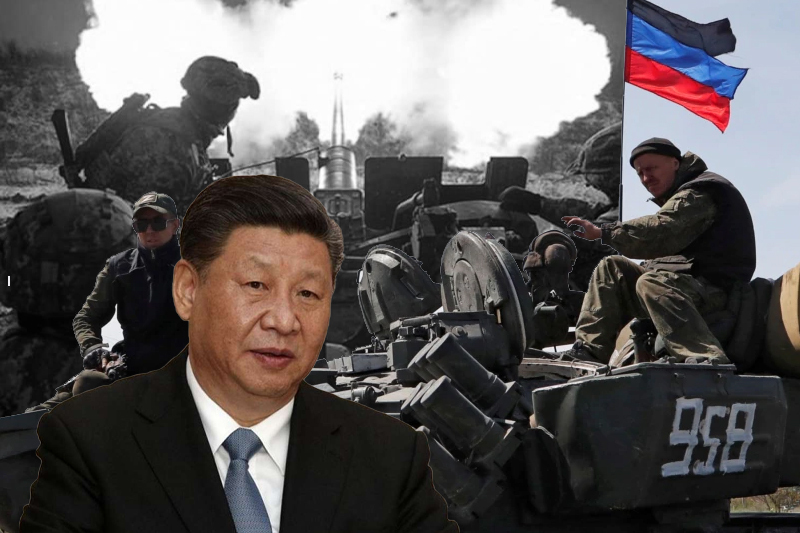 Ukraine war progresses, the EU thinks it needs China more
Ukraine war progresses, the EU thinks it needs China more
Numerous unintended consequences have resulted from Russia's invasion of Ukraine.
One of the less anticipated outcomes was that European leaders would court Chinese President Xi Jinping more than a year into the conflict. Given the EU's tough stance on Russia, one might assume that they would adopt a similarly firm stance with the Kremlin's most significant ally.
However, this week in Beijing, French President Emmanuel Macron stood next to Xi and said, "I know I can count on you to bring Russia to its senses and bring everyone back to the negotiating table." Xi has not condemned Vladimir Putin's war and has reaffirmed China and Russia's "no-limits partnership."
Over the past ten years, the relationship between China and the EU has taken an unusual turn. Even though an investment agreement was reached in 2020 after years of negotiations, it is currently on hold due to political differences (the EU has referred to China as a "system rival") as well as the fact that the Chinese government sanctioned members of the European Parliament for criticizing China's treatment of Uyghur Muslims.
Since then, relations have been chilly, which was made worse by the lack of interpersonal contact during the pandemic.
Some EU members were very upset about this because they believe that maintaining positive economic ties with China is crucial to the bloc's goal of becoming a significant geopolitical force.
The EU's ability to become a third power and avoid being squeezed between the US and China was a key component of its ability to maintain "Strategic Autonomy," an ugly term from Brussels that denotes the EU having an independent geopolitical policy. However, the China hawks, who are typically found in the east of the bloc, have always been skeptical of anything that puts Europe and the US in direct conflict because they view the US as NATO's top protector of European territory.
Unwilling partner
The EU Commission President, Ursula von der Leyen, had criticized China's "becoming more repressive at home and more assertive abroad" before the visit. She claimed that it was obvious to her that China had finished its reform process and that now, national security came first over all other considerations. China wants to reshape the world order so that China is at the center of it.
She clarified that rather than decoupling from China as the US seeks to do, Europeans should reduce any risk in their partnerships, not abandon it.
When injustice directly conflicts with its economic aspirations, the European Union, which is frequently criticized for its approach to international affairs, has been much tougher on Russia than anticipated. Brussels has pleasantly surprised diplomats and officials in other supranational institutions like NATO and the UN through a series of sanctions and coordinated military assistance.
However, the EU chose not to punish Putin's closest ally similarly. Many European officials have been forced—and in some cases, reluctantly—to conclude that their relationship with China may now be more crucial than it was before the Ukraine crisis. One European diplomat explains why it is impossible to decouple from China in a strict, American-style manner.
"We are not in a position to do what the US is doing geographically, economically, or strategically. We can't distance ourselves from China and Russia at the same time, the diplomat said.
"Sanctions against Russia increased energy prices," as an illustration. Our objective is to switch from Russian gas to renewable energy. Getting hold of affordable solar panels is a key component of doing that quickly. Who produces low-cost solar panels? China. We cannot simultaneously cut off our new energy source and our primary energy source, the diplomat continues.
While "no one is naive and thinks we should open the floodgates to Chinese technology," most people have accepted that "if we are to achieve our long-term goals, including becoming a geopolitical player who can hold influence over China, we need a strong economy." This was stated by a second diplomat. If our economy is in trouble, our geopolitical standing is worthless.
Keep Reading
China requires the EU
The Commission officials present a slightly less bleak picture.
A senior Commission official tells the news sources "Yes, there are things we cannot do without China, especially on climate change. But they assert that China needs the EU more than Russia does.
According to the official, Beijing's support for Russia is more about short-term domestic Chinese audience appeasement by backing a non-Western, non-NATO ally. They think that China's long-term perspective benefits the West more than Moscow.
"China's economy is what gives it power. Compared to Russia, it conducts more business with the EU. They are unwilling to impose sanctions on Russia after seeing what we were happy to do in that regard. China also wants to be seen as an international power that is responsible and unconcerned with the status quo. This confluence of elements offers us a chance," the official continues.
It's a very upbeat viewpoint. The member states are more cautious than they have been in years, even those that have traditionally had a softer stance towards China, like France and Germany.
"We will continue to have a problem with Russia for generations. We cannot geopolitically manage a problem with China at the same time, a government official from a significant EU member state told the news agencies. Everyone agrees that we need to mend our relations with China and support Macron's trip, but we are concerned about how it will all turn out and what China will do in the context of Ukraine.
These worries are shared by the traditional China hawks in the EU, but they are also convinced that Europe cannot simply abandon Beijing at the same time it does so with Moscow.
Many sources interviewed the Diplomats.
Their main conclusions were that it was important to maintain diplomatic relations with China while also explicitly acknowledging the possibility of Chinese involvement in the conflict. They assert that every effort must be made to dissuade China from going over the line and arming Russia, that Europe must take the initiative in the conversation, and that engagement must always be conducted on European terms.
They also expressed concern that by asking China to mediate a settlement between Russia and Ukraine, Beijing would score a propaganda victory that would allow it to participate in European security with the EU's approval.
There is a window of opportunity for Europe to reshape its economic relationship with Europe, according to Alicja Bachulska, a policy fellow at the European Council on Foreign Relations.
"We don't have to accept that China has more power than Europe by sitting down. Economic engagement with Beijing is still essential for the EU, even though it will be challenging to convince Beijing to change its stance on Ukraine. However, to reduce our reliance on China, we must diversify our economy at the same time.
According to Alexander Stubb, a former prime minister of Finland, "Russia's attack on Ukraine marks the end of the post-Cold War era and the beginning of the crafting of a world order." If Europe wants to play a significant role in this new order, this "means staying as close to the US as possible, but not decoupling with China."
Since Putin invaded Ukraine, concerns about a return to the US-led global order have been raised by the West's largely coordinated response. However, old concerns about China still exist. And for Europe, the decision of where to situate itself in a multipolar world has grown more challenging and dangerous.