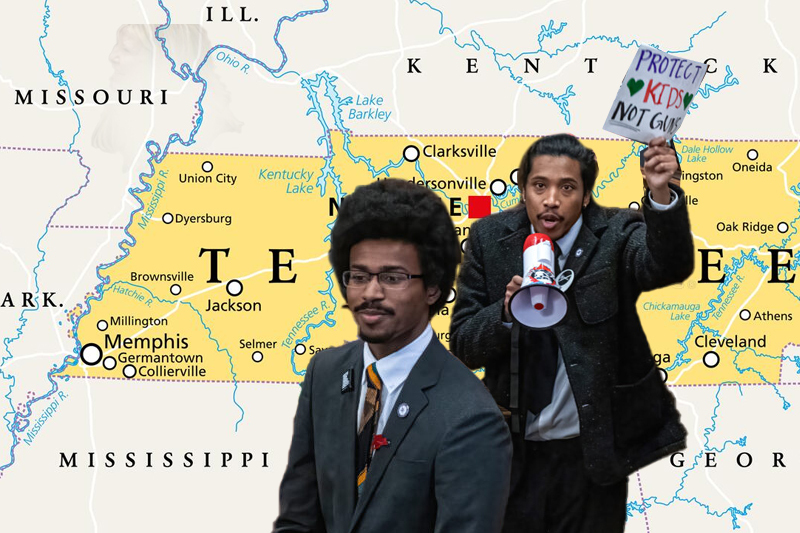 Tennessee becomes a new theater of conflict in the fight for American democracy
Tennessee becomes a new theater of conflict in the fight for American democracy
After Tennessee Republicans booted two Black politicians from the state legislature for their involvement in a demonstration calling for the passage of gun control laws, Tennessee has emerged as a new front in the fight for the future of American democracy.
Justin Jones and Justin Pearson were kicked out of the Tennessee House on Thursday in separate votes by the GOP supermajority, leaving approximately 140,000 people in predominantly Black districts in Nashville and Memphis without a representative.
The removal of Pearson "for such a small infraction," according to 53-year-old teacher Kevin Webb from Pearson's district, is "classic America."
According to Webb, there has been prejudice towards Black people in this nation for 500 years. What gives us the impression that it will suddenly stop?
In reprisal for their participation in the demonstration that took place following a school shooting in Nashville that left six people dead, including three young pupils, Pearson and Jones were expelled. By one vote, a third Democrat avoided expulsion.
Keep Reading
The expulsion of the parliamentarians, who had just recently been elected, is indicative of a nationwide Republican pattern in which they are attempting to make voting more difficult and pose a threat to the legitimacy of the electoral process.
According to the Brennan Center, at least 177 proposals that would limit voting, provide mechanisms that could intimidate voters, or allow partisan involvement have been filed or presented this year in dozens of states.
The expulsions were referred to by Patel as "the third prong of a long-range strategy." She claimed that while it used to be "unprecedented" for states to make it more difficult for individuals to vote, it is now "commonplace."
The GOP has also made it normal practice to contest elections and cast doubt on their validity. The next concern, according to her, is whether states with Republican supermajorities will follow Tennessee's example and eject opponents who hold opposing viewpoints. Expulsions have typically been reserved for parliamentarians engaged in criminal conduct, according to Fred Wertheimer, the founder and president of Democracy 21, a nonpartisan group that promotes better government.