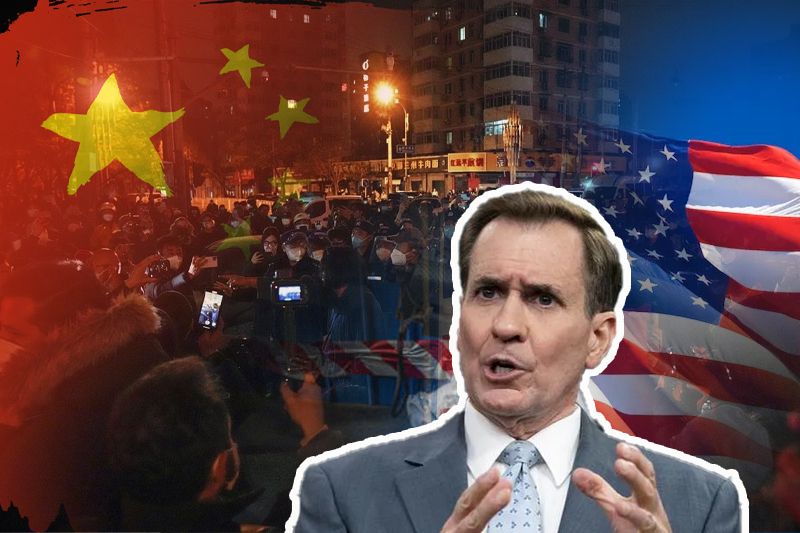 u s criticizes chinas zero covid strategy says people have right to protest
U.S. criticizes China's zero Covid strategy, says people have 'right to protest'
The United States (US) has criticized the zero Covid strategy and said that the Chinese people have a "right to peacefully protest." A spokesperson for President Joe Biden's National Security Council said, "Everyone has the right to peacefully protest, here in the United States and around the world. This also includes the PRC (People's Republic of China)."
On Monday, the White House criticized the Covid strategy in PRC. White House spokesman John Kirby said that people have the "right to peacefully protest."
Also Read – China And Pakistan Review CPEC Project
Rare protests erupted in Beijing, Shanghai, Urumqi and other cities in China against Covid lockdowns and China's zero Covid strategy. Some protesters called for China's President Xi Jinping to resign. Another protest erupted after a fire accident at a residential building in Urumqi on Thursday night killed ten people. Many people blamed the Chinese authorities for not improving its rescue efforts. Protesters demanded an end to the zero-Covid policy. In Shanghai, people chanted, "Xi Jinping, step down! CCP, step down!"
Last week, people in eight districts of Zhengzhou with a total of 6.6 million residents were told to stay home amid the rising number of Covid cases in the country.
Also Read – For the first time since the outbreak, Shanghai has reported no cases of COVID
Dr Ashish Jha, the White House's coronavirus response coordinator, said that China would be unable to contain COVID using its current strategy. Dr Anthony Fauci, the top infectious disease expert in the US, said that China's strategies to contain the virus do not make any sense. Fauci also urged China to boost vaccination among the elderly. Fauci recommended China pursue the strategy of making sure everybody gets vaccinated in the country.
US President Joe Biden met Chinese leader Xi Jinping at the G20 summit in Bali, Indonesia. Biden stressed the need to manage the United States' strategic relationship with China. He has spoken with Xi half a dozen times since taking office.