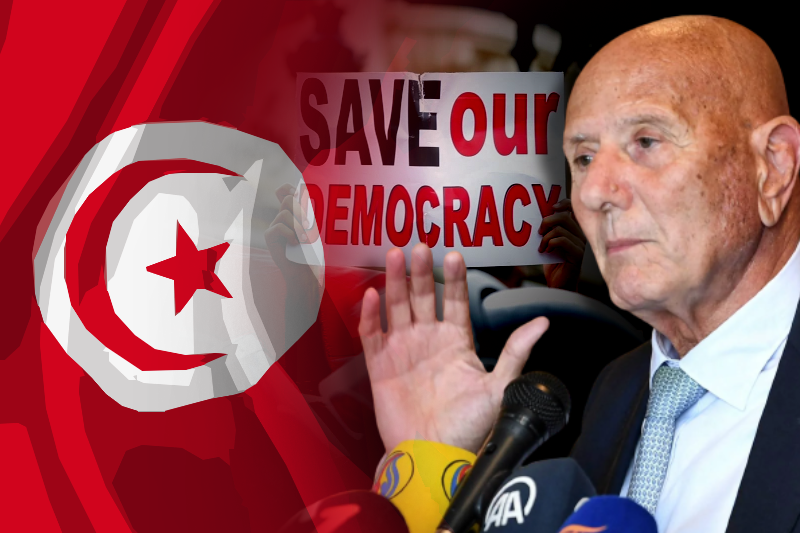 tunisian president kais saied has opposition alliance standing against him now
Tunisian President Kais Saied has opposition alliance standing against him now
On Tuesday, a veteran figure from Tunisia's opposition block announced that a new alliance has been formed to "save the country" from continuing crackdown by President Kais Saied after his act of power grab last year.
The new National Salvation Front is formed with aim to bring together country's political forces, restore the constitutional and democratic route in Tunisia, thereby guaranteeing freedom in the country, said 78 year old Ahmed Nejib Chebbi, a prominent left-wing politician. "We want a return to legitimacy and democracy," he said during a news conference in the capital city of Tunis.
The new alliance against President Kais Saied
The alliance that has been formed against Saied's moves since last year, labelled as a "coup", includes arch nemesis of the President – Islamist inspired Ennahdha party. Alliance front comprises of five opposition political parties along with five civil society groups. Independent political figures are also a critical part of this new National Salvation Front.
"The Front's priority is to rescue an economy ruined by a rotten political system that puts off investors," Chebbi said. "It also aims to involve other political groups and influential figures before launching a national dialogue on reforms to save the country," he added.
Why Saied has been side-lined?
Kais Saied, a former law professor who was elected President of Tunisia in 2019, sacked the country's government last year on July 25 amid growing anger among people against the political class. He thereafter, suspended the parliament and seized the country's power.
A series of unilateral decisions after that, including giving himself power to rule by decree, have garnered massive anger and opposition against the President.
Saied assigned himself power to choose and appoint electoral commission head last week. According to critics, this move is in attempt to make a 'pet' electoral body ahead of scheduled legislative elections in December.
Saied's increasingly aggressive power grab has attracted criticism as experts raise concerns that country might be heading back towards autocratic rule. Do you also share the same concerns? Please share the comments in section below and let us know about your take on this.