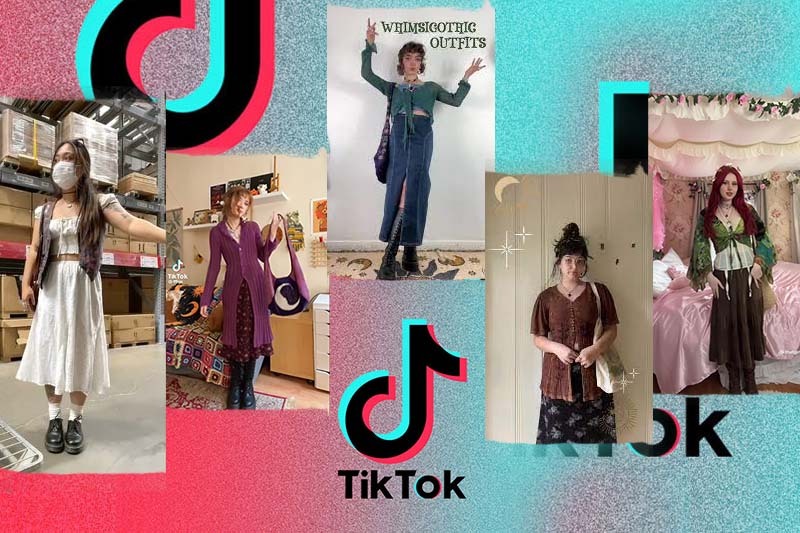 the latest tiktok fad focuses on whimsigoth energy
The Latest TikTok Fad Focuses on Whimsigoth Energy
Let us be the first to welcome you to the new style of modern witchcraft if you have not yet heard about the magical and mystical whimsigothic fashion trend that has been hexing TikTok with over 20 million followers.
Evan Collins, who works at the Consumer Aesthetics Research Institute, came up with the name "whimsigothic" and described it as the "ultimate throwback" to the dramatic witch costume that was popular in the late 1980s and early 1990s. Whimsigoth is best described as a blend of Stevie Nicks, Kate Bush, FKA Twigs, Lorde, and Florence Welch's vibe, with a touch of Morticia Addams thrown in for good measure.
A couple of months ago, the style of magical home decor known as whimsigoth started trending on TikTok. This style features dark drapes, velvet couches, dramatic wallpaper, rustic wood floors, crystals for positive energy, vibrant plants filling up each room, and the classic black cat as a familiar and for luck. This throwback style dominated the interior design scene throughout the spring and summer of 2022, creating an atmosphere that was reminiscent of a scene from the stylish lair featured in the film Practical Magic from 1998. On the other hand, it evolved into a style statement through time.
Why do we still have fads about this whimsy-gothic style? The solution is actually much easier to understand than you might have imagined. People have a tendency to turn inside, toward their own spirituality, during times of transition and uncertainty. They make the conscious decision to define their beliefs based on the experiences and convictions that are unique to them. As soon as they realize there is a connection between them, they frequently get obsessive about their newly discovered emotions and look for ways to express them.
On a cultural and spiritual level, the pandemic and other recent events have caused a shift in our thinking and consciousness on how we should dress. The witchy aesthetic has provided us with a sense of control in an otherwise chaotic and intense world. This presents one with yet another chance to reestablish a connection with oneself on a spiritual and holistic level. In a similar vein, it is a message about feminism (the ability to reclaim power from patriarchy) and defense against the negativity that is directed toward us. Christine "Ammo" O'Day, a witch and practitioner of the occult, claims that witches selected their particular type of dress because it is both empowering and seductive. The patriarchy does not strike fear into our hearts. We are uninhibited in our expression of ourselves, and we take pleasure in our bodies and our sexuality.
In recent years, there has been a boom in interest in astrology, which has contributed to an increase in the number of people who are acknowledging the witch that resides within them. #WitchTok has also brought together magic practitioners from all over the world. And they are making the conscious decision to dress the role.
Related Posts
Maranda Vandergriff, owner of vagabondary and a well-known fashion designer who has had a number of her looks go viral, says, "I'm drawn to whimsigoth because it combines dark, rich hues with feminine forms, and heavenly patterns." The music of Whimsigoth has been likened to a mix of the 1970s and the 1990s. "I have always adored Stevie Nicks for her dark bohemian style, and when I go thrift shopping, I frequently find myself drawn to grunge fashions from the 1990s. It has elements of both witchcraft and fairytale, and it's a lot of fun to style."
Leather, lace, and thigh-high boots are being styled in a manner that is highly fancy by celebrities, members of Generation Z, millennials, and boomers alike. Many celebrities, including Megan Fox, Kourtney Kardashian, Dove Cameron, and Conan Gray, have been seen sporting whimsigothic styles on multiple occasions. Even Christian Dior featured the look in their autumn 2022 couture fashion show.
The color scheme of whimsigothic design incorporates a wide variety of tones, beginning with earthy tones that help us feel more in tune with our own identities. The color deep purple is associated with spiritual insight, dark red with creativity and passion, dark green with tranquillity, black with protection, and navy blue with power.
The trendiest dresses right now are voluminous and majestic, with bell sleeves and lace-up bodices. They are made of materials such as chiffon and velvet, and they have floral or paisley patterns. In addition, you'll frequently see crochet cardigans, bell-bottom leggings, and other items for layering when it comes to whimsical gothic styles. Accessories like moon necklaces, huge floppy hats, and pointy shoes are all quite common in the whimsigothic subculture.
The Whimsigoth appearance is ideal for people who want to keep their energy safe and pay respect to the past at the same time. Tahirah Hairston, a writer on the subject of fashion, is quoted as saying that this particular historical style "never went anywhere; it's simply gotten more inclusive since we are more into mysticism now." As a result, more and more individuals are showing an interest in trying out this appearance, which can be easily replicated with the outfits that people currently own. It is not difficult to look through the closets of one's parents and select old pieces that are energetically connected with the present fashion.
If you're looking for ideas, you could watch some episodes of Buffy the Vampire Slayer, listen to This Mortal Coil's cover of Song to the Siren, then either ask your parents to borrow some of their old clothes from the 1990s or go out and get some new clothes to achieve this enchanted look.