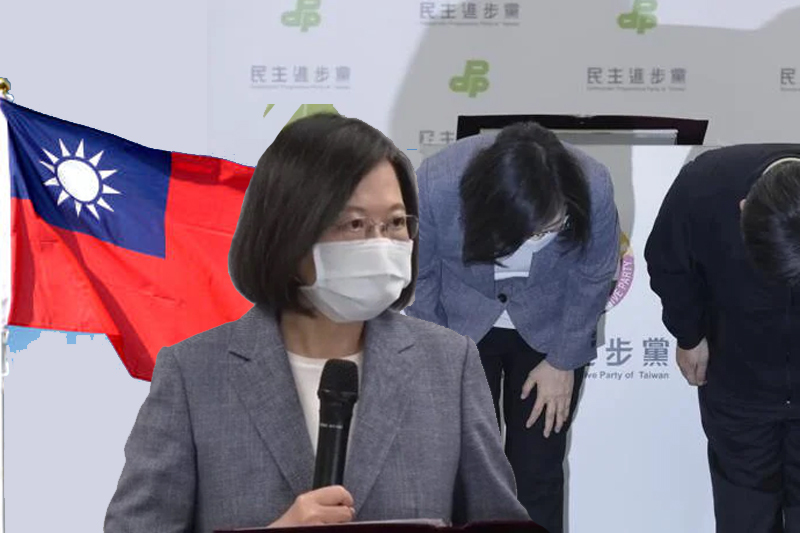 taiwan president resigns as party head
Taiwan President resigns as party head
Last updated on November 29th, 2022 at 07:09 am
The Taiwan president, Tsai Ing-wen has resigned as head of the country's ruling Democratic Progressive party (DPP) after it faced a huge local election loss on Saturday. The voters in Taiwan have overwhelmingly chosen the opposition Nationalist party in several major polls across the island nation.
Candidates from the Nationalist party have won the mayoral seat in Taipei, Taiwan's capital, as well as in Taoyuan, Taichung and New Taipei city. "The public voted for mayors, city council members and other local leaders in all 13 counties and in nine cities. There was also a referendum on lowering the voting age from 20 to 18, which was defeated," according to local media.
President Tsai has stressed about "opposing China and defending Taiwan" many times while campaigning for DPP. But the party's candidate Chen Shih-chung, who lost the vote for mayor of Taipei, only raised the issue of the Communist party's threat a few times before he quickly switched back to local issues as there was little interest, experts said. Following tradition after a major loss, Tsai extended her resignation on Saturday as she thanked her supporters. "I must shoulder all the responsibility," she said. "Faced with a result like this, there are many areas that we must deeply review." 
Keep Reading
Chiang Wan-an has been elected as the mayor of Taipei. He declared victory on Saturday night at a large rally. "I will let the world see Taipei's greatness," he said.
While international experts and the ruling party have linked the elections to the continued existential threat from Taiwan's neighbour, China, "many local experts do not think China – which claims the island as its territory, to be annexed by force if necessary – has a large role to play this time around".
"The international community has raised the stakes too high. They've raised a local election to this international level, and Taiwan's survival," said Yeh-lih Wang, a political science professor at National Taiwan University. "So I think if you can't even raise this issue in Taipei," Wang said. "You don't even need to consider it in cities in the south."