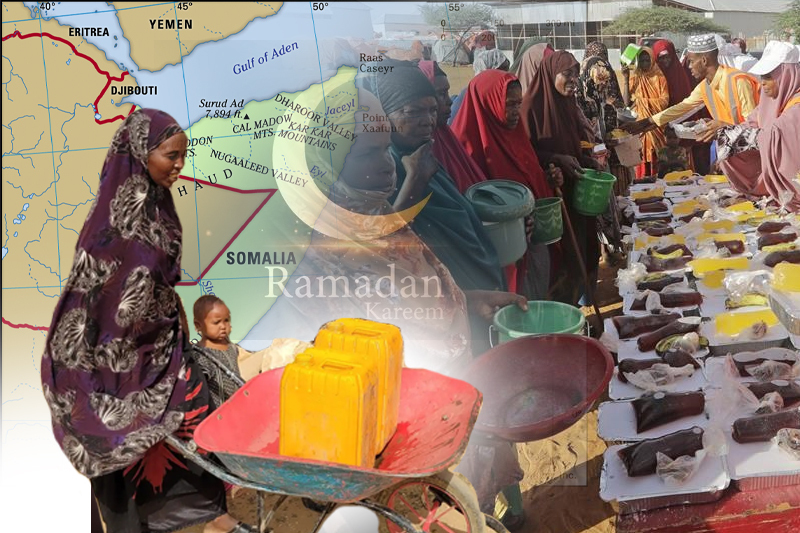 Some Muslims in Somalia break Ramadan fast with little but water
Some Muslims in Somalia break Ramadan fast with little but water
This year's Ramadan coincides with the longest drought on record in the Horn of Africa nation. As Muslims across the globe break their fast with generous dinners, Mohamed and her family have just water and whatever food comes by.
Hadiiq Abdulle Mohamed is among scores of Somalis who have fled their homes in search of help while roughly 43,000 people are estimated to have died last year alone. She and her husband with their six kids are now residing in a displacement camp around Mogadishu.
Somalia has long been struggling with inflation prompted in part by the year-long war in Ukraine and the withering of local crops by a series of failed rainy seasons. Millions of livestock have died. And Ramadan worsened the crisis by triggering an increase in food prices.
Keep Reading
Now it's much more difficult for the displaced Somalis to arrange their daily meals. For Ramadan, Mohamed and her family depend on well-wishers for their single meal a day. "I recall the Ramadan fast we had in the past when we were enjoying and prospering," she said.
Nevertheless, the inflation in Somalia affects the more well-off too. The country imports the majority of its food. Earlier this month, World Food Programme monitoring said supply chain resilience was generally good here, but the Ramadan-fuelled spike in demand would prove to be disadvantageous for vulnerable households depending on local markets.
Nevertheless, the extreme rise in food prices is expected to subside after the month is over.