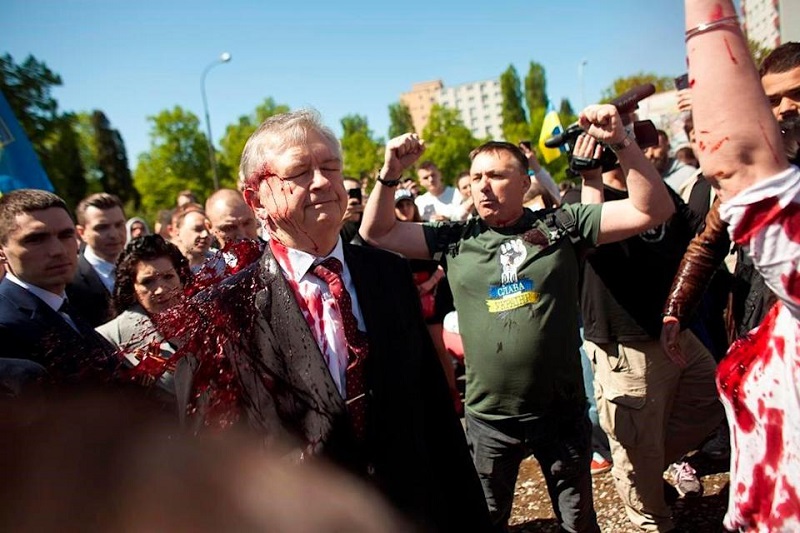 russian ambassador to poland attacked with red paint prevented to pay respects at war cemetery
Russian ambassador to Poland attacked with red paint, prevented to pay respects at war cemetery
In a showcase of anger against Russia's war on Ukraine, protesters threw red paint on Russia's ambassador to Poland while he was visiting a war cemetery in Warsaw on Monday. The ambassador was hit with paint to stop him from paying respects to the Red Army soldiers who died during World War II.
Ambassador Sergey Andreev to Poland was visiting Soviet soldiers' cemetery on Victoria Day to pay his respects and lay flowers. The Victoria Day marks defeat of the Nazi Germany and is a major Russian patriotic holiday.
Also Read: Top 7 Most Powerful & Dangerous Missiles in The World
Attack has been denounced
The attack on Russian envoy to Poland has been denounced and highly criticized by Russian Foreign Ministry spokesperson Maria Zakharova. She said that "we won't be scared" while the "people of Europe should be scared to see their reflection in a mirror."
Poland's Foreign Minister Zbigniew Rau has called the incident as "highly deplorable". "Diplomats enjoy special protection, regardless of the policies pursued by the governments that they represent," he said.
The "red paint" incident
As Ambassador Andreev arrived at the Soviet Military Cemetery in Warsaw, he was met by a large number of activists who opposed the Russian war on Ukraine. Red paint was thrown at him from behind.
Also Read: Top 5 Strongest Military Powers in the World Right Now
Protesters chanted "murderers" and "fascists" at him while carrying Ukraine flag. Many protesters wore white sheets that had been smeared in red – signifying countless Ukrainian victims of the war by Russia.
"The gathering of opponents of Russian aggression against Ukraine, where the crime of genocide takes place every day, was legal," Interior Minister Mariusz Kaminski added. "The emotions of Ukrainian women taking part in the demonstration, whose husbands are fighting bravely in defense of their homeland, are understandable." The anger against Russia is understandable. But some might take the act of red paint by protesters as an offense. What is your view on this? Share in the comment section below