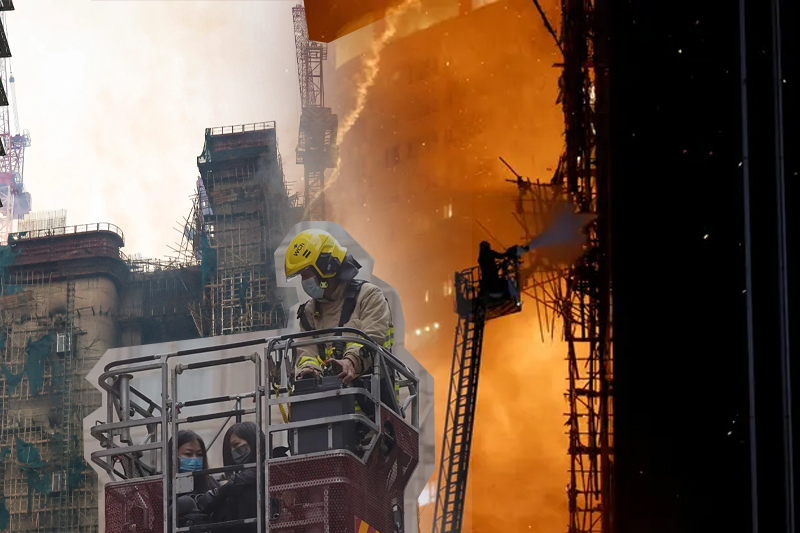 Massive fire engulfs Hong Kong skyscraper, burning embers rain down on streets
Massive fire engulfs Hong Kong skyscraper, burning embers rain down on streets
Burning debris and embers rained down on the streets below as a huge blaze consumed an under-construction scaffold-covered skyscraper on Middle Road in Tsim Sha Tsui late on Thursday.
The massive fire broke out at around 11 pm. Authorities received multiple calls about the incident at about 11:10 pm. It was upgraded to a No 3 alarm fire on the one-to-five scale of seriousness at 11:37 pm and a No 4 alarm fire at 1:46 am on Friday.
Flames could also be seen from the other side of Victoria Harbour. Videos and photos from the incident were widely shared on social media. Hong Kong firefighters battled the powerful blaze in the major shopping district for about nine hours before managing to put it out at 8:30 am on Friday, the Fire Services Department informed.
Two jets and three breathing apparatus teams were mobilised to the site, while around 130 people living nearby were evacuated.
Keep Reading
The construction site used to be the location of the former Mariners' Club, opened in 1967 by Hong Kong Governor David Trench for the city and visiting sailors. The old building was demolished in 2018 and was set to be replaced by a 42-storey, 500-room Kimpton Hotel, as part of a $764 million redevelopment project by the property developer Empire Group.
The 340,000 sq ft skyscraper was close to completion and will also house the historic club.
At one point, flames on some floors of the under-construction building became fiercer and explosions could also be heard. A few buildings located just a stone's throw away also caught fire, but the flames were quickly extinguished.
No casualties related to the fire were reported, although it wasn't immediately clear whether two people who were reported injured earlier were taken to the hospital for other reasons.
Hong Kong has been facing a series of major blazes in urban areas in the last few months. While the blaze that broke out in January in an industrial building at San Po Kong was put out after almost 10 hours, the fire from last December in a building on Dundas Street in Mong Kok triggered massive evacuations.
Also Read:- Abdullah bin Zayed arrives in India for G20 Foreign Ministers' Meeting