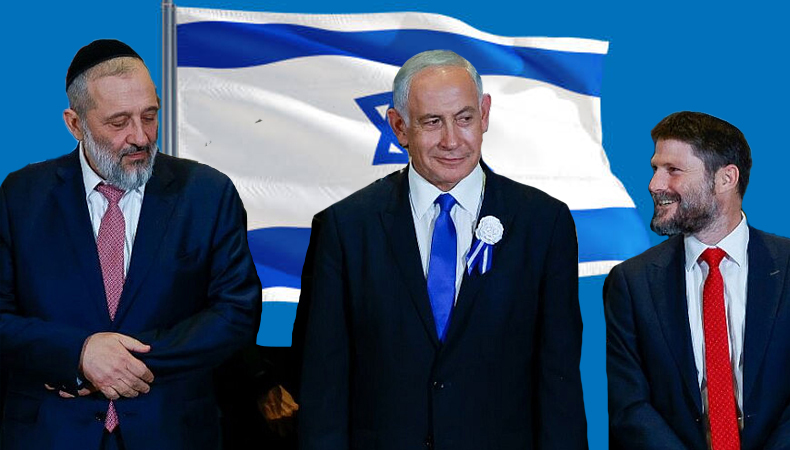 israeli coalition netanyahu strikes deal with a hardline party to take charge of settlements
Israeli coalition: Netanyahu strikes deal with a hardline party to take charge of settlements
Designated prime minister of Israel, Benjamin Netanyahu in another step to form a coalition government in Knesset has struck a deal with a hardline, pro settler party. This will render the party control of many key government ministries, including a senior role in supervising the structuring of Jewish settlements in the occupied West Bank.
The coalition agreement between Netanyahu's Likud Party and the Religious Zionism party thereby marks an important achievement for Netanyahu as he tries to bring together a coalition government. Likud Party said that Religious Zionism would "share control over the Finance Ministry, run the government ministry in charge of immigration and head a new ministry for national missions."
"This is a significant additional step that nears us toward the formation of a right-wing, national government," Netanyahu said. Likud Party also said that a party member would be holding a special ministerial level post in the Defense Ministry that is in charge of the Jewish settlement construction in the occupied West Bank.
Keep Reading
Bezalel Smotrich, chairman of the Religious Zionism party has called the deal a "historic step." He added that the new coalition government would "restore security and governance, promote historic reform in the legal system, regulate and develop the settlement enterprise, strengthen Jewish identity in the spirit of religious Zionism and proudly wave the flag of Zionism." Smotrich is a leader of the West Bank settlement movement and is seeking a massive increase in construction of Jewish housing in occupied territories claimed by the Palestinians for their future state, according to The Associated Press.
Netanyahu and his Likud Party have recently come into limelight for the choice of coalition agreements. The new deals include some controversial choices. Ben-Gvir, an extremist leader who is known for his anti-Arab rhetoric, will be the national security minister and will also oversee the  police force of Israel. Furthermore, Avi Maoz, who is known for his anti-LGBTQ views and remarks about non-Orthodox Jews, has been given charge of protecting "Jewish identity."