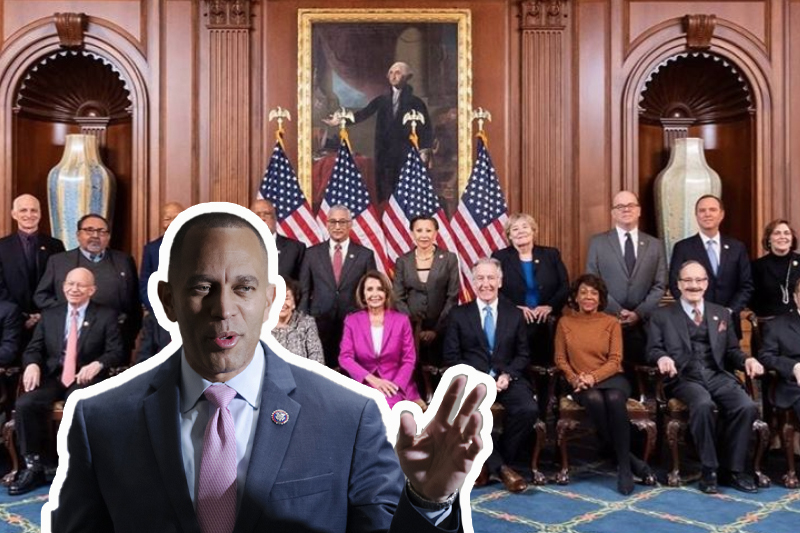 hakeem jeffries replaces pelosi becomes first black leader to lead house democrats
Hakeem Jeffries replaces Pelosi, becomes first Black leader to lead House Democrats
House Democrats have unanimously elected the New York congressman Hakeem Jeffries as their new leader, as he becomes the first Black American to lead a Congressional caucus after Democrat Nancy Pelosi, steps aside to pave the way for a new generation. 52 years old Jeffries will take over the role of minority leader next year when the new Congress is sworn in.
As he emerged from the closed door meeting room, Jeffries declared, "House Democrats fight for the people. That's our story. That's our legacy. That's our values. That's our commitment."
Keep Reading
"Today, with immense pride, I stood in front of the House Democratic Caucus as a candidate for Democratic Leader, and I am eternally grateful for the trust my colleagues placed in me with their votes," Jeffries said in a statement. The position of top deputy of Jeffries will be assumed by Rep. Katherine Clark, D-Mass., 59, a progressive leader who had also served under him as vice chair of the Democratic Caucus and then later became assistant speaker this Congress. The post of third leader in the House would be taken over by Rep. Pete Aguilar, D-Calif., 43, a Congressional Hispanic Caucus member and former mayor of Redlands who becomes the Democratic Caucus chairman. With this the "big three" of the Democrats, in minority in the House next year, would be for the first time all people of color, and all leaders of the next generation – the vision with which Nancy Pelosi had stepped down as the Dems caucus leader in the House.
"This is a moment of transition," Jeffries told media in the Capitol on Tuesday night. "We stand on the shoulders of giants but are also looking forward to being able to do what's necessary at this moment to advance the issues."
Pramila Jayapal of Washington state, chair of the Congressional Progressive Caucus, said, "With this new generation of leadership, House Democrats are well positioned to enter the 118th Congress and confront the challenges ahead."