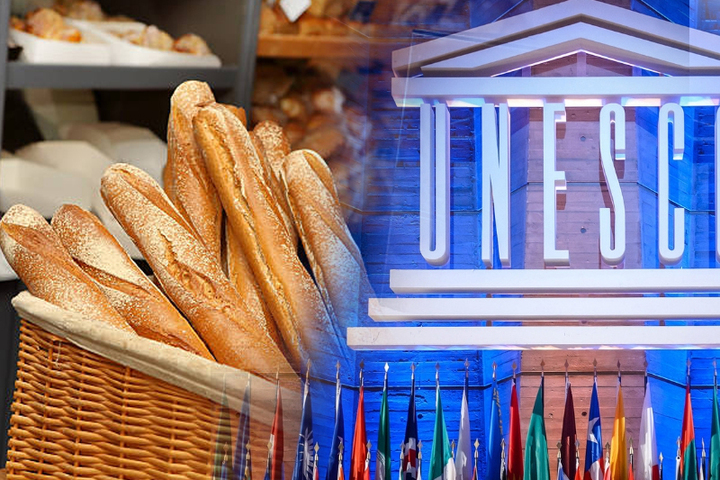 french baguette now part world cultural heritage list 720
The French baguette is currently listed as a World Cultural Heritage
On November 30, the simple baguette, a mainstay of French cuisine, was added to the United Nations' list of intangible cultural heritage, to the satisfaction of both bakers and non-bakers in France.
U.N., based in Paris, the "artisanal know-how and culture of baguette bread" will now be included on the Intangible Cultural list maintained by heritage organization UNESCO, which already includes some 600 customs from over 130 nations.
According to UNESCO director Audrey Azoulay, this "celebrates the French way of life: the baguette is a daily ritual, a structuring element of the meal, synonymous with sharing and conviviality."
"It is crucial that these abilities and social behaviors persist in the future."
The baguette, a fluffy, long loaf of bread with a crunchy crust that has been a staple of the French diet for at least 100 years, is a global icon of France.
Christophe Moussu, an instructor at the famed Ferrandi culinary school in Paris, broke the news to his baguette-making students.
To applause from his students, Moussu declared, "Ladies and gentlemen, that's it, we're in the UNESCO (World Cultural Heritage list). It's been recognized."
"I'm quite pleased."
Patricia Filardi, a student who is 54 years old, made an effort to describe what makes the baguette unique.
It's about the baguette's crunch and the soft side of the crumb, she noted, adding that it was extraordinary.
Keep Reading
A baguette, which is French for "wand" or "baton," costs about one euro ($1.04) each.
According to a 2019 Fiducial estimate, France continues to produce approximately 16 million baguettes every day, or close to 6 billion baguettes annually, despite the fact that baguette consumption has decreased over the past few decades.
Marie-Dominique Dumas, a retired Parisian who frequents a bakery to purchase a baguette every other day, exclaimed, "I'm extremely thrilled because it reflects France nicely."
According to the French Bakers Confederation, which battles to defend its market from industrial bakeries, baguette dough must rest 15 to 20 hours at a temperature between 4 and 6 degrees Celsius (39 to 43 degrees Fahrenheit).
Even though the ingredients are usually the same, each bakery has its own distinctive flair, and there are yearly contests to determine which one makes the greatest baguette in the country.
The history of the baguette is rife with myths. According to one myth, Napoleon Bonaparte's bakers created the baguette's extended shape to make it simpler for his men to carry, but according to another, August Zang, an Austrian baker, is really credited with creating the bread.