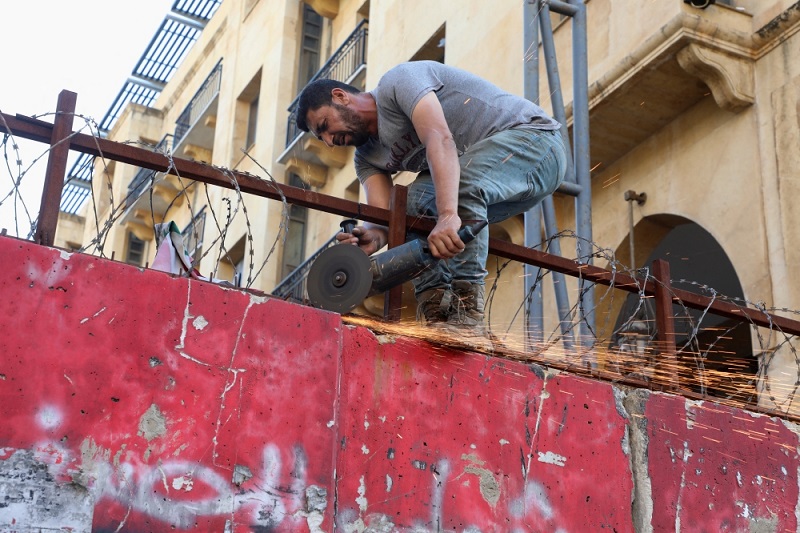 concrete barriers being removed from around lebanons parliament
Concrete barriers being removed from around Lebanon's parliament
In the light of rising protests in Beirut in 2019 against rising corruption and collapsing economy, Parliament of Lebanon was barricaded with concrete to avoid any access. The idea was to protect the country's ruling class from rising protests nationwide. Now the authorities have ordered to remove the barriers from around Parliament in Beirut.
Also Read: 10 Best Places for Summer Vacations in Turkey
The timing
The order to remove concrete barriers comes after parliamentary elections in Lebanon took place on May 15. The elected members include 13 independent opposition MPs out of 128 seat Parliament.
Interestingly, many of these independent MPs have been linked to the 2019 protests across Lebanon. These members, who will be entering Parliament for the first time, have been an active voice advocating removal of these barriers on previous occasions. "There are no walls that rise between the representatives of the nation and citizens," newly elected MP Elias Jradi tweeted on Monday morning.
Welcomed decision
The decision for removal of concrete came in late Monday afternoon and was finished late on Tuesday morning. As the work for removal of blocks started on Monday, a small crowd gathered waving Lebanese flags and chanted slogans.
This is symbolic. After the election of a new Parliament last week, security forces removed 2 of the cement blocks that surround Parliament. This policeman told me they stopped for today because the electricity cut, but they'll continue removing the blocks tomorrow morning. pic.twitter.com/8SGoJOkpGA

— Sunniva Rose (@Sunniva_Rose) May 23, 2022
Calling it his duty after elections, Interior Minister Bassam Mawlawi said, "The people who are protesting here are now inside." He added, "Some of them are in the Parliament".
Beirut MP Ibrahim Mneimneh, from the Forces of Change, said, "There is no need for the barriers placed around the people's house because it is for the people. They are needless barriers."
Also Read: Tokyo Revengers: Each Main Character, Ranked By Strength
Ali Hamdan, the media adviser to the parliamentary speaker, said that "these measures are not an indication of excessive confidence. Rather, elections were held and the results have brought representatives of the protesters to parliament." He said, "These people represent part of the street, and you may call them a movement, an uprising or a change."