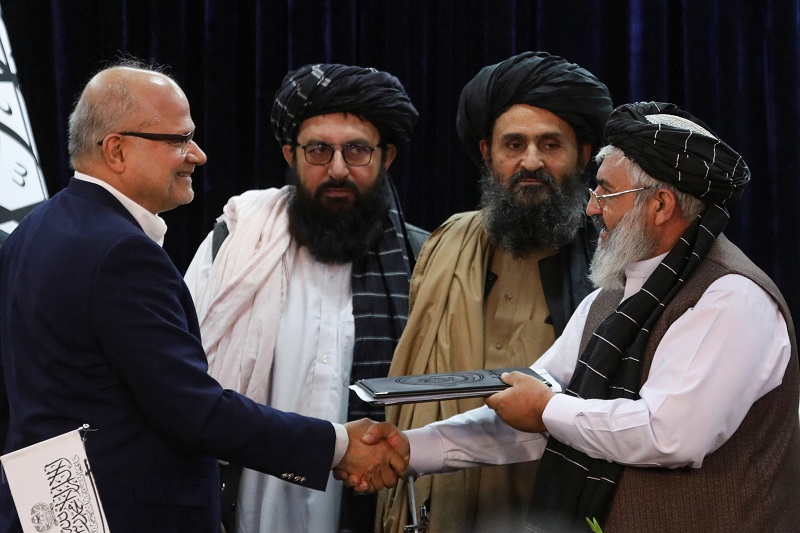 uae chief financial officer of gaac firm, and deputy ministry of transport and taliban's deputy head of civil aviation of afghanistan, exchange documents, in kabul
UAE, Taliban sign agreement to handle operations of Afghan airports
The Taliban has signed an agreement with the United Arab Emirates (UAE) for the management of the operations of international airports in Afghanistan. According to a statement issued by the Taliban's acting deputy prime minister Mullah Abdul Ghani Baradar, the group is handing over the control of airports across Afghanistan to the UAE.
Also Read: Sheikh Mohamed named UAE President: US Congress hails UAE as key partner to Washington
On Tuesday, a memorandum of understanding was signed between the Taliban acting first deputy prime minister and Razack Aslam Mohammed Abdur Razack of GAAC Dubai for the management of Afghan airports, including Hamid Karzai International Airport in Kabul and other airports in Herat, Balkh, and Kandahar.
The UAE company will be providing control, advanced technology systems, ground handling and controlling services for all international airports in the crisis-hit country.
During a press briefing, Baradar stated that the agreement was signed after talks with the UAE, Turkey and Qatar for the airport management.
"This will open the door for other countries to invest. All countries that are interested in investment in Afghanistan, we can guarantee their security," Mullah Abdul Ghani said, as quoted by a Reuters report.
Also Read: 5 Best Future-Proof Jobs In Dubai, UAE With High Salaries
In the wake of the Taliban takeover last year, Afghanistan has been struggling with spiralling economic and political crises. With the UAE company managing the operations of the airports with their technological expertise, there is a renewed hope for the resumption of international flights in Afghanistan. Speaking about the development, Afghanistan Civil Aviation Authority (ACAA) chief Mohammad Qasim Wafaeezada affirmed that the new management will help the government in preventing the illegal transfer of money and gold smuggling through the Afghan airports.
Also Read: Bill Gates visits Abu Dhabi, hails UAE's healthcare prowess
GAAC's successful management of Kabul Airport
UAE-based GAAC (General Aviation Airport Coalition) has been effectively operating the Kabul International Airport since November 2019. After heaps of garbage and rubble thrashed the Kabul Airport following the withdrawal of US troops from the country, several civilian aircraft were disabled along with helicopters, terminals, and operating systems.
Also Read: UAE leads the way with in protecting human rights and freedoms
The GAAC took up the challenge to repair, restructure and restart the operations of the vandalised airport. Investing millions of dollars into the restoration of Kabul Airport, the UAE provided necessary assistance to improve the infrastructural facilities for the Afghani people. Ibrahim Moarafi, regional director and general manager of GAAC, stated that the UAE government provided an air bridge corridor to ensure uninterrupted humanitarian aid to Afghanistan.
Also Read: UAE, Israel to sign historic free trade deal to boost economic ties