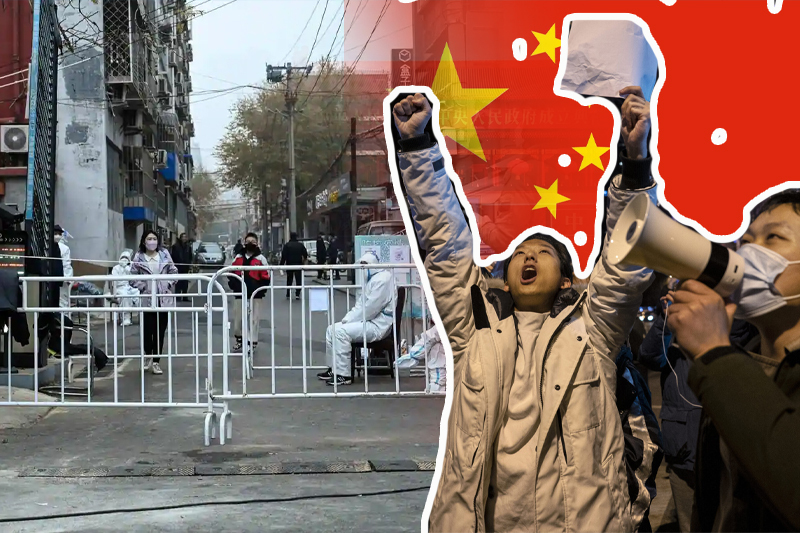 china rolls back strict covid 19 measures after protests
China rolls back strict Covid-19 measures after protests
The People's Republic of China (PRC) announced the lifting of its most severe Covid-19 policies on Wednesday. The announcement came days after rare protests in various Chinese cities called for President Xi Jinping's resignation over strict Covid measures.
The Chinese authorities announced some easing of Covid restrictions like the requirement for negative test results to board public transport in Beijing, Shanghai, and other major Chinese cities. People can now travel freely inside the country.
Also Read – China's Xi Jinping opens CCP Congress with focus on Taiwan, Hong Kong and zero-Covid policy
Beijing's National Health Commission (NHC) announced new guidelines. People with Covid can now isolate themselves at home if they have mild or no symptoms. NHC reportedly said that China will "further reduce the scope of nucleic acid testing and reduce testing frequency."
Under new NHC guidelines, Chinese officials would stop launching temporary lockdowns and end testing.
Earlier, Chinese officials had forced people with Covid-19 and anyone who was a close contact to go to quarantine camps in the country. China followed the zero-Covid policy to lock down Covid positive people for days or months. Chinese citizens used to express concern over the zero-Covid policy because it separated families and removed people from their homes.
In recent weeks, huge protests erupted in major Chinese cities over strict Covid rules. When an apartment fire in the northwestern city of Urumqi killed at least 10 people, a huge demonstration took place in the city. Protesters blamed Covid-19 lockdowns in Urumqi for the fire accident and death of those ten people. They demanded an end to the zero-Covid policy.
Also Read – China's zero-Covid policy, lockdown fears spark anti-CCP protests before Congress meeting
In Shanghai, protesters chanted, "Xi Jinping, step down! CCP (Chinese Communist Party), step down!" They urged authorities to end lengthy quarantines and mass testing campaigns.
For nearly three years, China has used tough measures to curb Covid cases in the country. The country's most recent wave of Covid outbreaks also affected the economy.
Many experts have pledged China to improve vaccination rates among the elderly to curb Covid cases in the country.