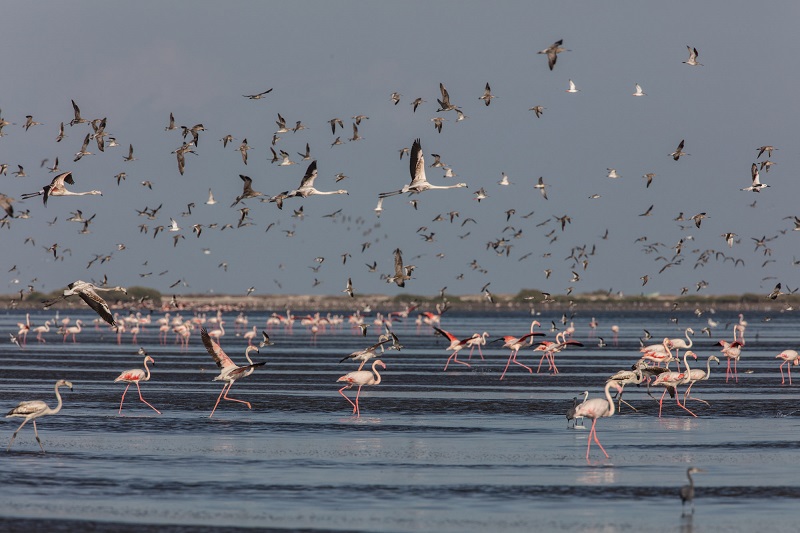 china almost 400000 migratory birds arrived in tianjin
China: Almost 400,000 migratory birds arrived in Tianjin
China -Since the beginning of this fall, almost 400,000 migratory birds have arrived in the Beidagang Wetland in the Tianjin Municipality of northern China. "We have identified over 130 types of birds in the wetland, including more than 60 eastern white storks, placed under the highest level of protection in China," explains Mo Xinxiang of Tianjin Normal University.
Tianjin is an important transit point for migratory birds from East Asia to Australasia. In addition to the Beidagang wetland, migratory birds are also expected to land in similar areas and nature reserves in the municipality. In recent years, Tianjin has emphasized building ecological civilization and relentlessly strengthened the protection of wetlands.
And, according to the Tianjin Municipal Bureau of Planning and Natural Resources, the ecological environment of wetlands and nature reserves has seen continuous improvement, attracting more and more migratory birds. In addition, the body expects that until the end of December, further migratory birds will fly in this area, to reach a total of more than one million specimens then.
Related Posts
In the area of ​​China's largest freshwater lake, the Poyang, new legislation will come into force from January 1, 2022, to protect migratory birds, especially the Siberian cranes that inhabit this area. The regulation, approved at the 34th meeting of the Standing Committee of the 13th Provincial People's Assembly of Jiangxi, will be the first provincial-level legislation in China to protect migratory birds, the provincial forestry department said yesterday.
There is a particular chapter in the legislation for the protection of Siberian cranes, with eight clauses that focus on the safety of bird food resources and the living environment in Lake Poyang. According to the regulation, a "red line" is drawn to prohibit individuals and entities from moving without authorization or damaging the signs that distinguish the achievement of the lowest level of water in the central area of ​​the lake's national nature reserve. According to experts, if the lake waterfalls below the established mark, it would damage the biodiversity in the central area of ​​the reserve.