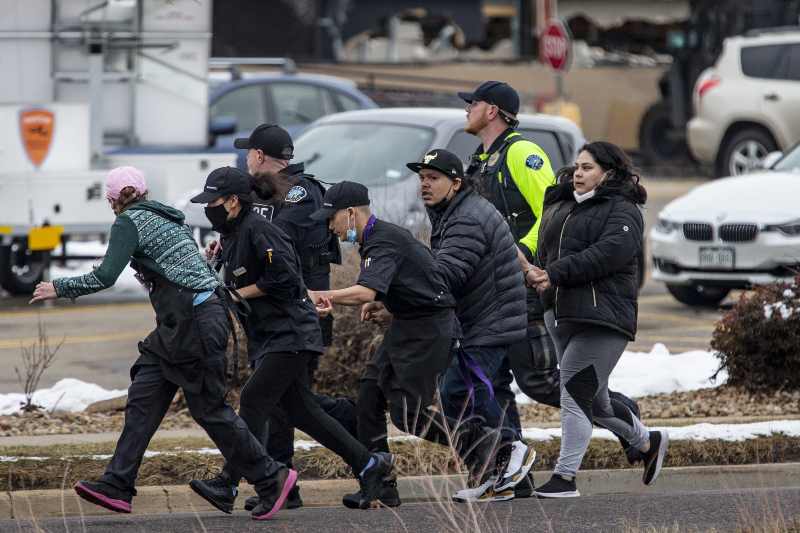 boulder supermarket shooting in colorado
Boulder supermarket shooting in Colorado leaves 10 killed, suspect in custody
Monday proved to be a day for survival for many shoppers in Colorado who had come for a simple grocery trip to King Soopers Supermarket in Boulder, home to the University of Colorado and situated about 25 miles north-west of Denver.
A white person came into the grocery store located in south Boulder in the state of Colorado and opened fire killing 10 people. This included a Boulder police officer Eric Tally, 51, who was one of the first to respond to the active location. The suspect has been taken into custody by Boulder police and is in hospital for treatment of injuries encountered during the whole unfolding.
The death toll was announced by Boulder police chief Maris Herold during the Monday night news conference, clearly fighting back tears. The investigation is said to be in the early stages. Victims' families are still being notified, hence their names weren't disclosed, said Michael Dougherty, District Attorney Boulder county. "This is a tragedy and a nightmare for Boulder county, and in response, we have cooperation and assistance from local, state, and federal authorities," Dougherty said.
Herold and Dougherty both said of Tally, the slain police officer, "He was by all accounts one of the outstanding officers of the Boulder police department, and his life was cut too short".
Boulder police responded to the 'active' shooting site around 3 pm local time and immediately surrounded the King Soopers supermarket. SWAT teams and at least three choppers were on the store's roof. A witness who had just left the shop said he could see three people face down, two in the parking lot and one near the entry of the shop, after gunshot sounds. He said he "couldn't tell if they were breathing."
Eye witnesses share scenes of total chaos, panic and stampede inside the supermarket as soon as the shooter opened fire on people inside.
Related Posts
In a tweet, Colorado's governor, Jared Polis, said "closely watching unfolding events at King Soopers in Boulder. My prayers are with our fellow Coloradans in this time of sadness and grief as we learn more about the extent of the tragedy."